"I've always had a huge interest in exoplanet research."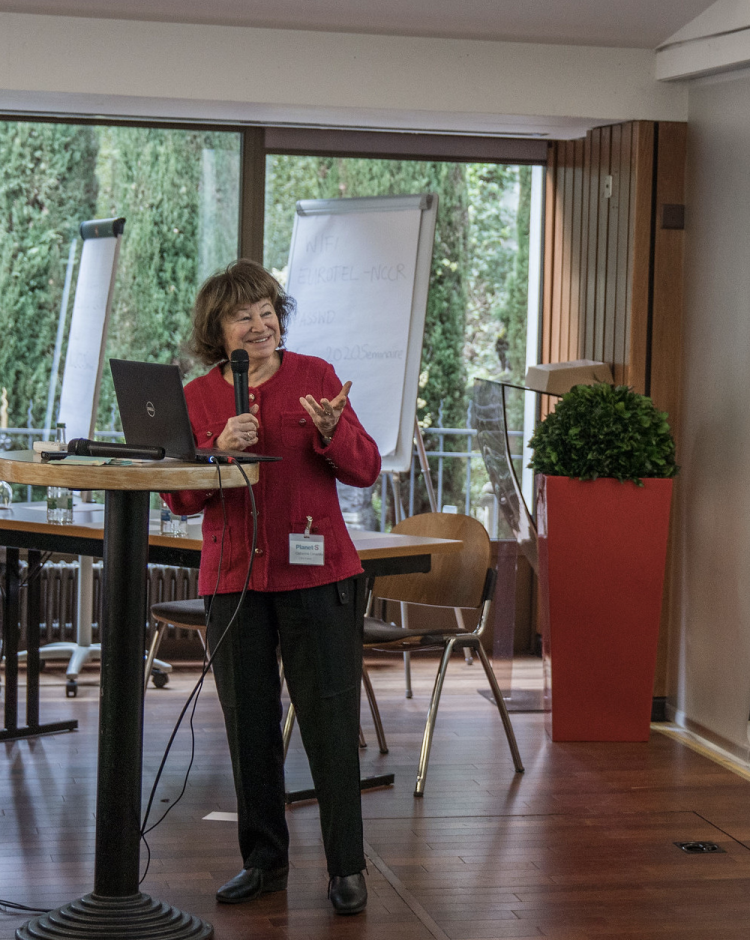 In response to an invitation from Willy Benz, Catherine Cesarsky has accepted to become a member of the NCCR PlanetS Advisory Board, joining Brian Schmidt and Michel Mayor. After completing her schooling and physics studies in Buenos Aires, Catherine Cesarsky flew to Harvard for a PhD on cosmic rays. This was the beginning of a long and rich career that led her to head the astrophysics department and then all the fundamental research at the CEA in France, and then, from 1999 to 2007, to the direction of ESO. She was therefore responsible for the construction of the VLT, the beginnings of ALMA and the ELT project. President of the IAU from 2006 to 2009, Catherine Cesarsky is currently Chairman of the Board of SKA, the largest radio telescope network in the world, which will be built partly in South Africa and partly in Australia.
Catherine Cesarsky you are not specifically exoplanet oriented, how were you contacted?
One day I received an email from Willy offering me a position on the Advisory Board. I get this kind of proposal quite often and I don't accept all of them, maybe one out of two and then some. But then I didn't hesitate for a second, I really liked the idea of working with Michel and Brian. Besides, I have quite a few activities aimed at the general public, and I like to talk about exoplanets. So when Willy sent me the email I accepted with enthusiasm.
You know, I was a member of the ESO "visiting committee" at the same time as Michel in the 90s, so it creates links, I also have a lot of sympathy for his wife Françoise. At the time I was in charge of the evolution of galaxies, I was PI of the infrared camera of the ISO satellite of ESA, it was a real challenge, imagine, for the first time we were observing infrared galaxies at z=0.5 (very far) or more, a revolution! Brian was my host when I went through Sydney as Director of ESO, and since then we have had many opportunities to meet and talk.
Far enough away from the considerations of the planet hunters.
When I was Director General of ESO I believed in HARPS a lot, it was eagerly awaited, it was an incredible instrument. One day the dome of the 3.6m telescope malfunctioned. We repaired it piece by piece, and it worked for a while and then broke down again. We were in the middle of building the VLT, La Silla was less important then. And then one day I decided to put as many resources as possible into repairing the dome, HARPS had to work, it had become a priority. The system was well repaired, quickly, and HARPS became one of ESO's most successful instruments in terms of top-notch scientific results . Subsequently, in 2010, I was awarded an honorary doctorate from the University of Geneva, a great honour for me.
Did you know Willy Benz as well?
I saw Willy often when I was Director of ESO, I found his work on exoplanets very interesting, especially in the preparation of the ELT. I invited him to the USA to discuss with NASA and NSF the future of exoplanet research. It was a total flop, the Americans hadn't prepared anything and we went back to Europe with our projects under our arm. Then we were successive chairmen of the ESA Space Science Advisory Committee.
You are in Montreux for the general assembly of PlanetS, what are your impressions ?
I came here without knowing anything about NCCR PlanetS, I didn't receive any documents, so I didn't prepare anything. J. The first night, I went to the Casino with Michel on the way there and Willy on the way back to explain to me how the NCCR works, what it does and what they wanted me to do. I am indeed used to large structures like yours and I think I might be able to give some useful recommendations. For a first impression, I think that you are much better organized than I thought and that your collaboration is working very well.
You are the chairman of the board of SKA, a few words about SKA?
It's a bit like PlanetS, it fell from the sky, but this time it was by phone that I was proposed to hold this position.SKA is currently on the right track… an international treaty was signed in Rome in March 2019 officially establishing the organization in charge of supervising and operating SKA. A "System Review" was successfully passed in December. It is now up to the project member countries to ratify this agreement, so far only the Netherlands and Italy have done so. A first meeting of the SKA Council is expected in mid 2020. The science that can be done with SKA is incredibly rich because all objects emit in the radio domain. We will be able to study the reionization of the Universe, gravitational waves thanks to the observation of pulsars, magnetic fields to better understand the planetary formation and the evolution of galaxies thanks to radio infra-red correlation. We will be able to observe the process of planetary formation, the large organic molecules found in them, and potentially aurora borealis around exo-giant planets due to interactions similar to those of Jupiter with its moon Io.
Is radio new to you?
Oh no, not at all! After my physics studies in Buenos Aires, I participated in the installation of the first radio telescope in Argentina. My professor had recovered an old radio telescope from the USA, we had to rebuild it in La Plata near Buenos Aires to make maps of the galactic distribution of hydrogen from the southern hemisphere, in addition to the work of Australian radio astronomers. So SKA, for me, is a bit of a homecoming.
Categories: External Newsletter, News