Roger Thibaut, Mr.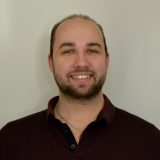 Communication, Outreach, Contact, Universität Bern
Communication & Outreach Officer
3012 Bern
+41 31 684 37 18
Please give us a personal quote or a quote of a famous person (e.g. of Albert Einstein) that describes you and your life/work.
"Any science leads to a new ignorance" from Henri Michaux
Please describe your job in only one sentence and tell us what the most important goal of this work is.
I'm currently evaluating the PLATO (PLAnetary Transits and Oscillation of stars) yield using data from observations and models. This will permit to estimate the needed ground-based follow-up and resources to characterize the exoplanets detected by the satellite. The use of data from observations and models can be done more efficiently by the co-supervision of the thesis between Bern and Geneva, possible thanks to the NCCR.
How did you get into this research/work field?
Already as a little boy, I was passionate with Star Wars and others Sci-fi movies. This got me interested in science and astrophysics, and one thing led to another, I fell in the exoplanet field. That was the most interesting and one of the most challenging for me. Specially, to understand the exoplanets, you need to explore various other science domains like atmosphere, geology processes, etc.
What would be the greatest discovery you would like to see in your life time?
I don't really know which would be the greatest… Evidence of life or technology on another planets would be great of course, but technological achievement like a human mission on mars or colonizing the Moon would also be wonderful
You work for the NCCR PlanetS. What do you think will the NCCR enable you to do you couldn't do without it?
Is « Getting my current job » a good answer? 🙂 More seriously, it permits me to have a shared position between two institutions, making it possible to learn various aspect of exoplanet science. This « science melting pot » becomes also possible on a larger scale through the annual meetings of the NCCR. The general assembly for example has been rewarding, both in terms of science and human contact.