Great opportunity to showcase the achievements of the NCCR PlanetS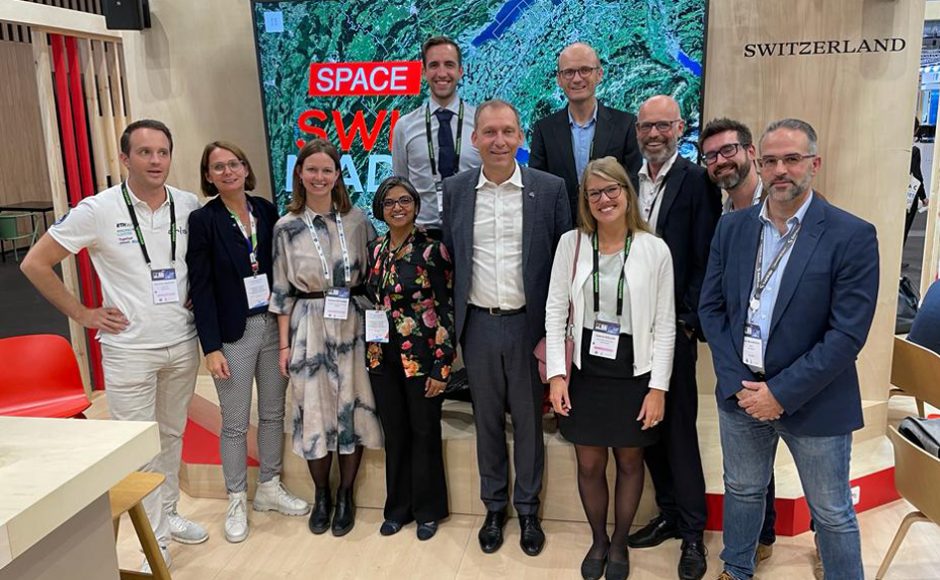 From September 18 to 22, the International Astronautical Congress (IAC) was held in Paris. One of the topics at the Space Exchange Switzerland booth was the exploration of exoplanets.
Once a year, the International Astronautical Congress (IAC) brings together some 6,500 experts from the space industry and space research over five days to present the latest technical developments and research results.
Around 250 exhibitors were represented in the event hall. Under the auspices of the State Secretariat for Education, Research and Innovation, Space Exchange Switzerland presented Switzerland with a booth that featured a coffee bar with seating and a sky full of planets. At the booth, various representatives of industry and research presented what sets Switzerland apart in space and space research.
During the event, the Swiss booth was visited by the Swiss ambassador in France Roberto Balzaretti, NASA vice-administrator Thomas Zurbuchen, and the Director General of ESA Josef Aschbacher. And of course, Swiss astronaut Claude Nicollier was also there. He talked about his missions and the exploration of space with large telescopes such as the Hubble and its successor JWST.
PlanetS and CHEOPS in the focus
The last day of the Swiss booth was devoted to exoplanet research. David Ehrenreich of the University of Geneva, a member of the NCCR PlanetS, gave several short talks that day under the title "CHEOPS: The Swiss-led ESA space telescope for the study of exoplanets". He focused on ESA's CHEOPS space mission, which is led by Switzerland. Thanks to CHEOPS, Swiss scientists have made a large number of discoveries since 2019. In addition, Ehrenreich addressed the questions of the interested audience. And of course, a small model of the CHEOPS space telescope could not be missing at the booth.
"Since most big actors of space and astronautics were represented at IAC, it was a good opportunity to showcase the achievements of the NCCR PlanetS", Ehrenreich said. "I was pleased to exchange ideas with other Swiss players in the space sector, not only from the Swiss administration but also from Swiss companies active in space that were also present at the booth."
"Chuchichäschtli" with artifacts
An attractive addition to the Swiss booth was the "Chuchichäschtli", a kind of shelf with various prototypes of instruments and other artifacts. Among other things, an original piece of foil from the Bern solar wind experiment, which flew to the moon with Apollo 11, and a part of the STROFIO mass spectrometer from the BepiColombo space probe, which was used for testing purposes, were on display.
Categories:
News