The astronomer in your class room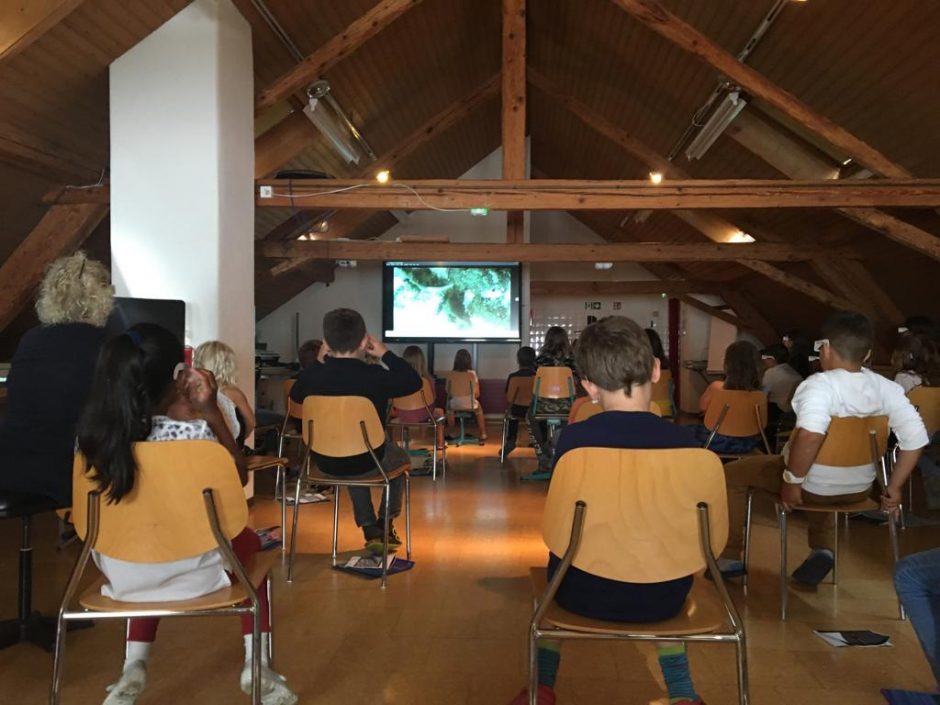 "How many planets has she been to?", the 8- and 9-year-old pupils asked their teacher. "Well, she's a scientist, not an astronaut, and scientists generally stay on Earth," the teacher replied. Despite the disappointment that I could not tell them about my adventures on other planets, the pupils of the Bernese primary school were very eager to meet me, a PhD student in astronomy, to ask me all sorts of questions.
However, I was far from able to answer every question. For example, one pupil wanted to know how many stars there are in our universe. Some of the children already had impressive prior knowledge. One pupil even knew better than I did that there are five dwarf planets in our solar system and could name them all.
Fortunately, I didn't come empty-handed. First, I showed them pictures of Jupiter's icy moon Europa, which is the main topic of my PhD thesis. I told them that I was particularly interested in the line-like structures on Europa and explained that they were probably cracks in the ice, but that there were still many unanswered questions about them. We then left Europa and turned our attention to Mars.
Tatiana Drozhzhova, a scientist from the same research group as me, who not only has a degree in physics but also produces professional science films for a broad audience, created a video especially for this event with images of the Martian landscape made with the Colour and Stereo Surface Imaging System (CaSSIS) developed at the University of Bern. Halfway through the video, the students put on 3D glasses to see anaglyph images for the rest of the video, which created the impression of a relief image. Astonished eyes looked at me through red and blue lenses and when the video was over, no one wanted to take off their glasses. Fortunately, Tatiana and I had prepared a small booklet with an individual CaSSIS anaglyph image for each pupil, which they were allowed to take home together with the glasses.
After sitting quietly in their chairs for half an hour, the students wanted to interact with me a little more freely. Half of the students were allowed to go to a table with give-aways I had brought, such as coveted stickers, postcards or brochures with pictures, and choose something from them. The other half impressed me with their very creative memo flip books in which they had drawn planets and moons of our solar system with crayons and other materials. One pupil showed me her beautiful picture of Neptune's moon Triton and told me with shining eyes that she is already thinking about doing research on Triton in her future because she finds it interesting that life could have originated there. This impressed me and I am already imagining how I will read about the exploration of Triton and other research topics from her and from other enthusiastic classmates in a few years' time.
Categories: External Newsletter, News