Thousands of visitors at Scientifica 21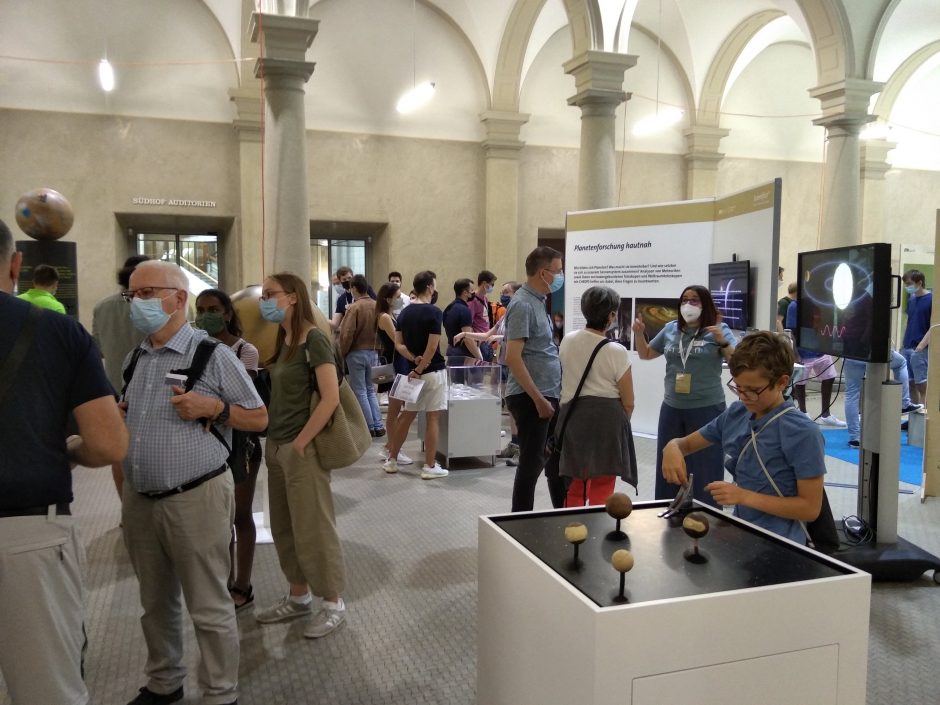 A little girl looks fascinated at the screen and watches as a researcher floats around weightlessly in an airplane. Next to him, his experiment is running, which is supposed to provide data on the early phase of planetary system formation. "If you want to go into space later, you need a spacesuit," the PlanetS scientist explains. The girl, who is obviously very interested in space, points to the researcher's T-shirt, which shows an astronaut, and says, "One of those?"
The public's interest in the Scientifica 21 science days is great. Around 10,000 people flock to the major Zurich event this weekend and the NCCR PlanetS booth gets more than its fair share of visitors.
On display, for example, is the 1:2 scale replica of the CHEOPS space telescope, which has been in orbit around the Earth since December 2019 and is taking a closer look at exoplanets that we want to know more about. As soon as some visitors move on the next booth with their thirst for knowledge about space and planets quenched, others already stand in front of the model and want to know more about it. Incessantly, the PlanetS researchers start again and explain how astronomers use this and other telescopes to detect and characterize exoplanets. One family father comments, "I wasn't even aware that there were other planets outside our solar system."
Meteorites and learning through play
A mother and her two children can hardly take their eyes off the display case with real meteorites – rocks from outer space. They are particularly fascinated by a piece of Martian rock. With a smile on her face, the mother thanks us for "this exciting insight!
Nearby, thin sections of meteorite lie under a microscope. The device gives an unexpected insight into the colourful inner world of the stones from outer space. Visitors are amazed to learn from a researcher how this material is examined in the laboratories and how the secrets of the oldest known material – the chondrules – are extracted in the process.
Meanwhile, the "Slingshot Experiment" is the number one attraction for children. Here, the youngest visitors can let metal marbles roll off a ramp onto a table with magnetic planet replicas. In the process, they learn more about how the gravity of planets can be used in space exploration to steer and accelerate space probes. Yet it is not only the children who are fascinated by learning through play. Their parents are also eager to try it for themselves.
Lively discussion on important questions
Not all visitors of the booth are fans of space exploration, however. A sceptical older gentleman remarks provocatively: "What good does it do to know what an exoplanet is made of? We have more important problems on Earth, don't we?" One of the PlanetS researchers patiently explains the connections between basic research and its benefits for us humans. The man's expression relaxes more and more. Finally, he says goodbye and thank us for the explanations. "Now I see the whole thing in a completely new light", he says.
Yet, it is not only the visitors who go home with new insights. Their questions triggered a number of interesting conversations that may inspire some of our researchers to look into new aspects of their field.
More impressions from the PlanetS booth at the Scientifica 21:

Categories: External Newsletter, News