"Switzerland is a space nation"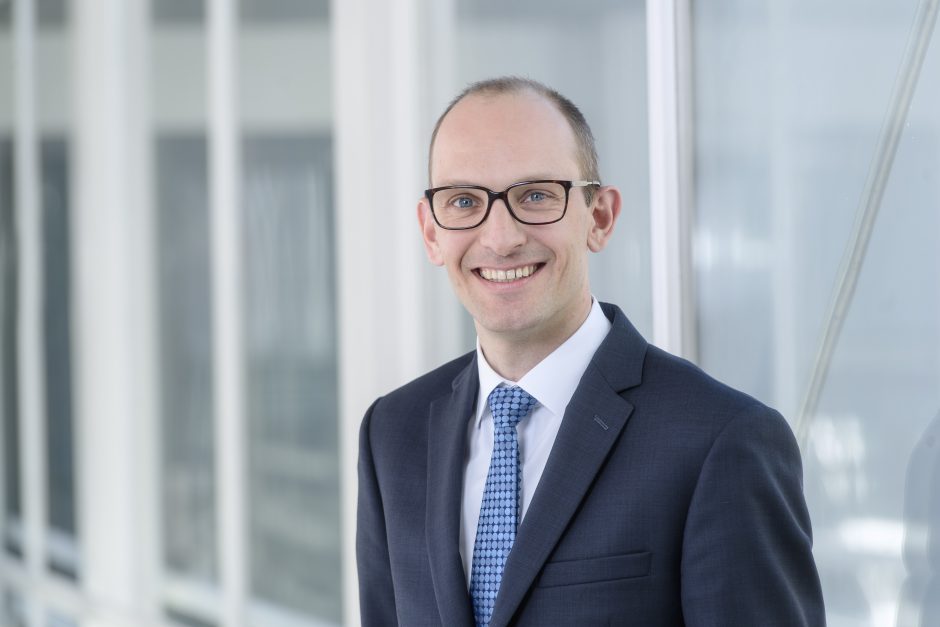 This week, the new COSPAR report is published, providing an overview of Swiss activities in the field of space. Renato Krpoun, head of the Swiss Space Office of the State Secretariat for Education, Research and Innovation SERI, comments on the report and emphasizes the importance of cooperation between science and industry.
NCCR PlanetS: Mr. Krpoun, when you think of Switzerland, the first thing that comes to mind might be the mountains. Then cheese, chocolate and watches. All that has very little to do with space. Nevertheless, there is a Swiss Space Office. How does that fit together?
Renato Krpoun: Actually, in one way or another it all fits together with space. Because of the mountains, there is no real horizon in Switzerland and we are practically forced to look up at the stars all the time. When it comes to watches, we talk about precision and quality, and when it comes to cheese and chocolate, we are among the best in the world. This is not least an expression of competition and excellence – and tastes good (laughs).
What is the task of the Swiss Space Office?
Switzerland does not have its own space agency, but we are a founding member of the European Space Agency ESA and were even part of its predecessor organization. That's why we have over 50 years of experience in space. Our task is to prepare and implement Swiss space policy. A large part of this involves managing the projects we implement through our participation in ESA – 95 percent of the Swiss space research and development budget is invested in ESA. In addition, we are the contact for industry and science and form the competence center for space travel in the federal administration.
This week the new COSPAR report will be published. It gives an overview of Swiss space instruments and research of the last two years. The report is 100 pages long and contains almost 60 projects. Are you satisfied? Does anything stand out for you?
I am very satisfied. The universities and companies involved in the projects can be proud of their contributions. It's tremendous to see what's going on in Switzerland and how many areas of space research we are involved in. In my opinion, the CHEOPS (CHaracterizing ExOPlanetS) clearly stands out. It is the first ESA mission under the scientific leadership of Switzerland. It is also remarkable that Didier Queloz, the person responsible for the scientific committee of CHEOPS, received the Nobel Prize (together with Michel Mayor) for exactly this field of research (exoplanets) a few months before the start of the mission. This shows that Switzerland is among the world leaders in this field.
You say that Switzerland is among the world leaders in space travel. How did this small country without its own space program manage that?
Switzerland has, not least thanks to its prosperity, the 15th to 20th largest space budget in the world. Within the ESA the 7th largest. That is one thing. The other is that Switzerland recognized early on that space activities only work in cooperation. That is why it has always concentrated on niches. On the one hand, in industry, such as the payload fairings (which protect rockets from external influences) of RUAG or atomic clocks, which are virtually the heart of the Galileo satellites. On the other hand, in science, where, as the COSPAR report shows, Switzerland produces many essential mission instruments. This can be seen, for example, in CHEOPS or GAIA (in which, among other things, variable celestial bodies are analyzed). The 3D images of the CASSIS instrument, which is part of the ExoMars mission, are also world class. This makes Switzerland a space nation.
To what extent does the NCCR PlanetS contribute to the success of Swiss space efforts?
In addition to its strengths, Switzerland has a weakness: its small size, which means it lacks the "critical mass". This is particularly evident in the development of instruments that are becoming ever larger and more complex. The NCCR PlanetS is one way of counteracting this. Instead of individual universities trying to work on something on their own, which leads to redundancies, the NCCR PlanetS allows the division of work based on competencies. The know-how is pooled and synergies are created. The NCCR thus strengthens cooperation within Switzerland.
Space is certainly interesting. But what is the ultimate benefit of these efforts for the taxpayer? Will jobs be created? Does research and development also result in things that are commonplace in everyday life?
In fact, numerous jobs are created as a result – in the Lausanne area alone, where many companies are active in the space sector, over 200 jobs have been created in the last 5 years. But jobs are also created indirectly by companies that use these technologies to bring new products to market. The link with space travel is not always obvious. Among the applications serving the population are weather satellites – hardly anyone today could imagine a weather forecast without one. Navigation satellites are also very useful in everyday life: they enable Rega 200-300 additional rescue flights per year, for example. Part of the communication also runs via geostationary satellites. This trend towards the everyday life application is likely to intensify in the future.
More and more private players are playing a role in space. SpaceX, for example. How do you assess this development and what does it mean for Switzerland?
Basically, something like a renaissance of space travel is currently taking place, bringing a new dynamic. Competitiveness is more in demand, including in government space programs. "More bang for the buck" is the motto. For Switzerland this means that we must continue to be innovative. I think we are on the right track in this respect, not least thanks to the many start-up companies in the space sector.
Does that mean that this development towards more private companies is also taking place in Switzerland?
Exactly. In total, there are now more than 70 Swiss companies that build a whole range of products from the smallest components to entire satellite systems. The European Space Policy Institute recently published a study on venture capital in the space sector, in which Switzerland ranks second in Europe with around 40 million euros. That's saying something. But we must continue to work on it in order not to lose this position.
The pressure from this development to get more out of the investments is certainly welcome. But the private sector is also showing that there is a certain gold rush atmosphere in space. The SpaceX project, for example, to send thousands of satellites into orbit, is not only meeting with the approval of scientists. Does space need more regulation? If so, how can Switzerland advocate this?
Of course, this is an issue that concerns us, but it needs to be tackled globally. Switzerland cannot make decisions on its own, if only because of the UN treaties which state that the space above Switzerland does not belong to us. That's why we cannot forbid SpaceX satellites to fly over us in orbit. But Switzerland is making international efforts to ensure the long-term sustainable use of space. On the one hand through the UN Committee on the Peaceful Uses of Outer Space and on the other hand again through the ESA. The latter has, for example, also commissioned a Swiss company (ClearSpace) to develop a system for removing space debris. In addition to regulations, technological solutions can also contribute to this. However, a balance is needed between sustainable use and socio-economic added value of space activities.
Would you like to add something we have not yet discussed?
What is important to me is that Switzerland's success in space is based not only on the know-how of the universities, but also on that of the companies. This symbiosis must not be forgotten and should be further cultivated. This will also help to guarantee the competitiveness of our science in the future.
The COSPAR report was published by the Swiss Committee on Space Research (CSR) of the Swiss Academy of Sciences.
Categories:
External Newsletter