The story of the Swiss moon experiment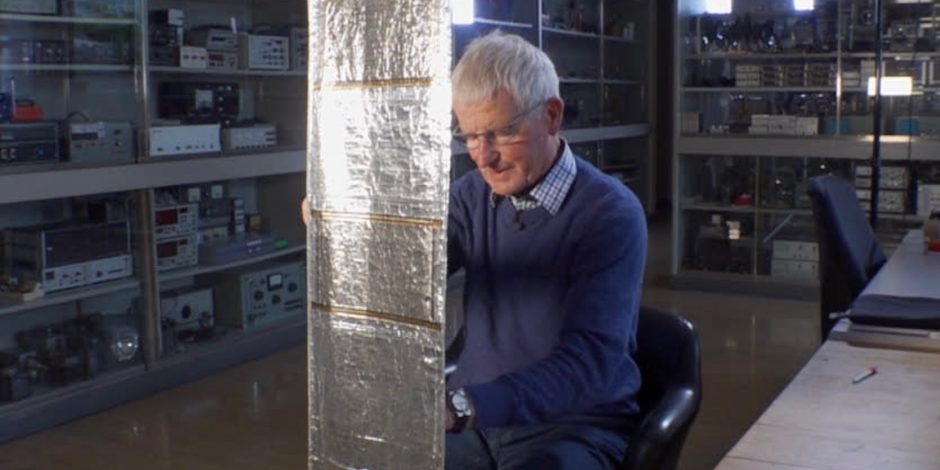 When Buzz Aldrin stepped out of the lunar module on 21 July 1969, the first thing he did was to place a solar wind experiment on the moon even before the American flag. The experiment was developed at the University of Bern. As a PhD student Jürg Meister was significantly involved in the work. Today, the eighty-year-old physicist remembers the exciting days 50 years ago and demonstrates how the simple, but ingenious experiment was constructed.
Jürg Meister studied physics at the University of Bern. As a PhD student, he was a member of the team that developed the solar wind composition experiment. Using a solar wind simulator, he was able to show in the laboratory that the particles that the researchers were looking for actually got stuck in the aluminum foil as they had hoped – the ingeniously simple idea worked. In 1969, the 30-year-old physicist brought the Bernese experiment destined for Apollo 11 in his hand luggage to the USA. Then, he spent six years as a researcher at Rice University in Texas before returning to Switzerland and working for the ammunition factory in Thun.
You find more video portraits of scientists involved in space research at the University of Bern at http://www.bernimall.unibe.ch/hintergrund/videoportraits_zu_berner_weltraumforschenden
From 28 June to 4 July 2019, Bern celebrates 50 years moon landing. The full program is available at Bern-im-All.ch
Categories: External Newsletter, News, Uncategorized