Insights from the moon to the exoplanets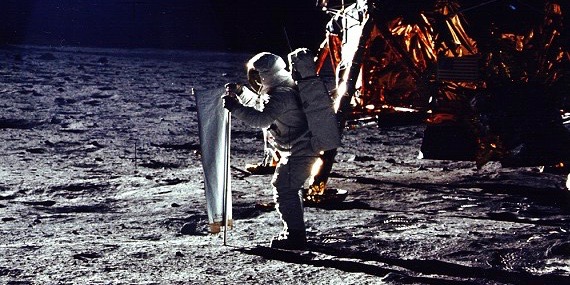 In the anniversary year of the moon landing of Apollo 11 there are exciting things to discover. The University of Berne will be celebrating a science festival together with the public from 27 to 30 June 2019. The Swiss National Library in Berne is showing a transport container for the Apollo solar wind experiment. And at the Kunsthaus Zurich, Prof. Willy Benz will talk about the achievements of the University of Bern, from the lunar missions to the CHEOPS space telescope.
When Buzz Aldrin had left the Lunar Module on July 21, 1969, he first unfurled the Solar Wind Composition Experiment (SWC) of the University of Bern and put it into the ground of the moon even before the American flag. This experiment was a first highlight of Berne's space research. Since then, the University of Bern has been involved in numerous international missions. From 27 to 30 June 2019, the University of Berne will therefore be celebrating a science festival together with the public.
What does the world look like from above? The Swiss National Library addresses this question in the exhibition "Von oben. Spelterinis Ballon und die Drohne", which can be seen from 28 February to 28 June 2019 at Hallwylstasse 15 in Bern. Curator Hannes Mangold wanted to make visible how a society deals with the knowledge collected from above when it becomes generally available. The exhibition invites visitors to change perspectives with historical photographs, a balloon ride in virtual reality, and other objects.
The University of Bern provides a transport container for the exhibition, which was used at the end of the 1960s to deliver the Bernese solar wind experiment from Switzerland to the USA, from where the experiment finally flew to the moon with the Apollo astronauts. The container is exhibited in public for the first time.
The Bernese solar sail also plays a role in the event "From the Moon to the Exoplanets" organised by the Kunsthaus Zürich. On Thursday, 23 May 2019 at 7 pm, Willy Benz, astrophysicist at the University of Bern, will take the audience on a journey through time back to the Apollo 11 experiment from Bern and on the CHEOPS mission, the first mission of the European Space Agency ESA under Swiss lead. Curator Cathérine Hug will then discuss with Willy Benz how the University of Berne has managed to remain at the forefront of space research to this day.
The event is part of the exhibition "Fly me to the Moon", which will be shown at the Kunsthaus Zurich from 5 April to 30 June 2019. The exhibition is a journey through the history of artistic discourse with the moon from Romanticism to the present day. Around 200 works by Darren Almond, Paweł Althamer, René Burri, René Magritte, Andrei Sokolov, Andy Warhol and other artists will be on show. (GS)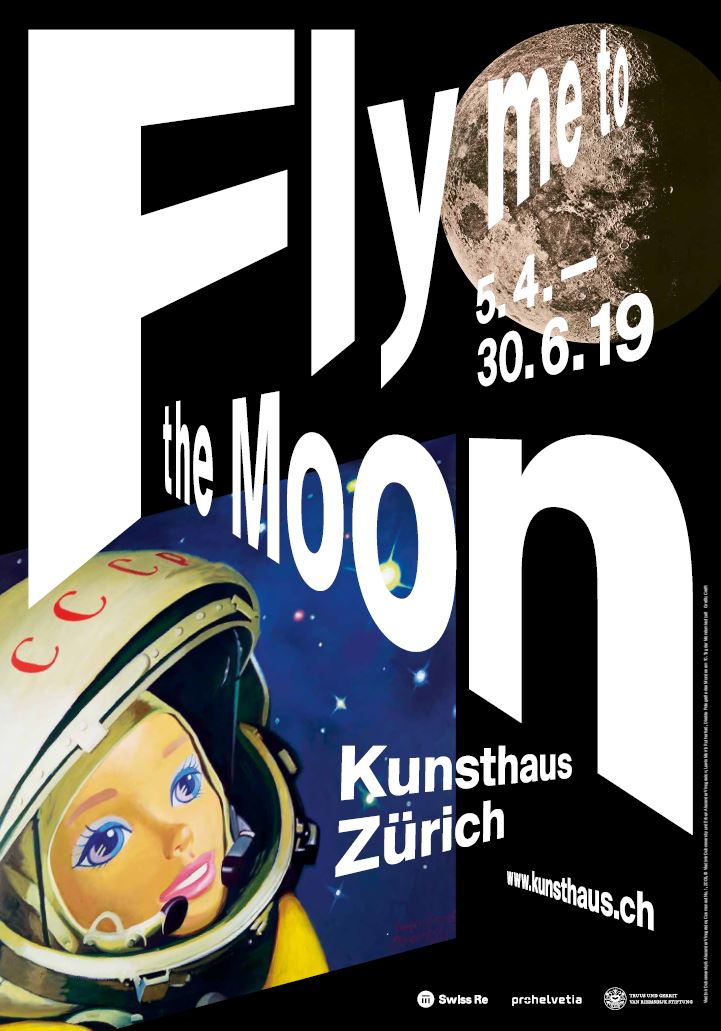 More information about the exhibitions:
www.nb.admin.ch/snl/de/home/ausstellungen-va/ausstellungen-past/vonoben.html
www.kunsthaus.ch/de/ausstellungen/vorschau/fly-me-to-the-moon
Kunsthaus Zürich: Fly me to the Moon
www.upinspace.unibe.ch
Categories: External Newsletter, Uncategorized