Astronomy Outreach Like A Rocket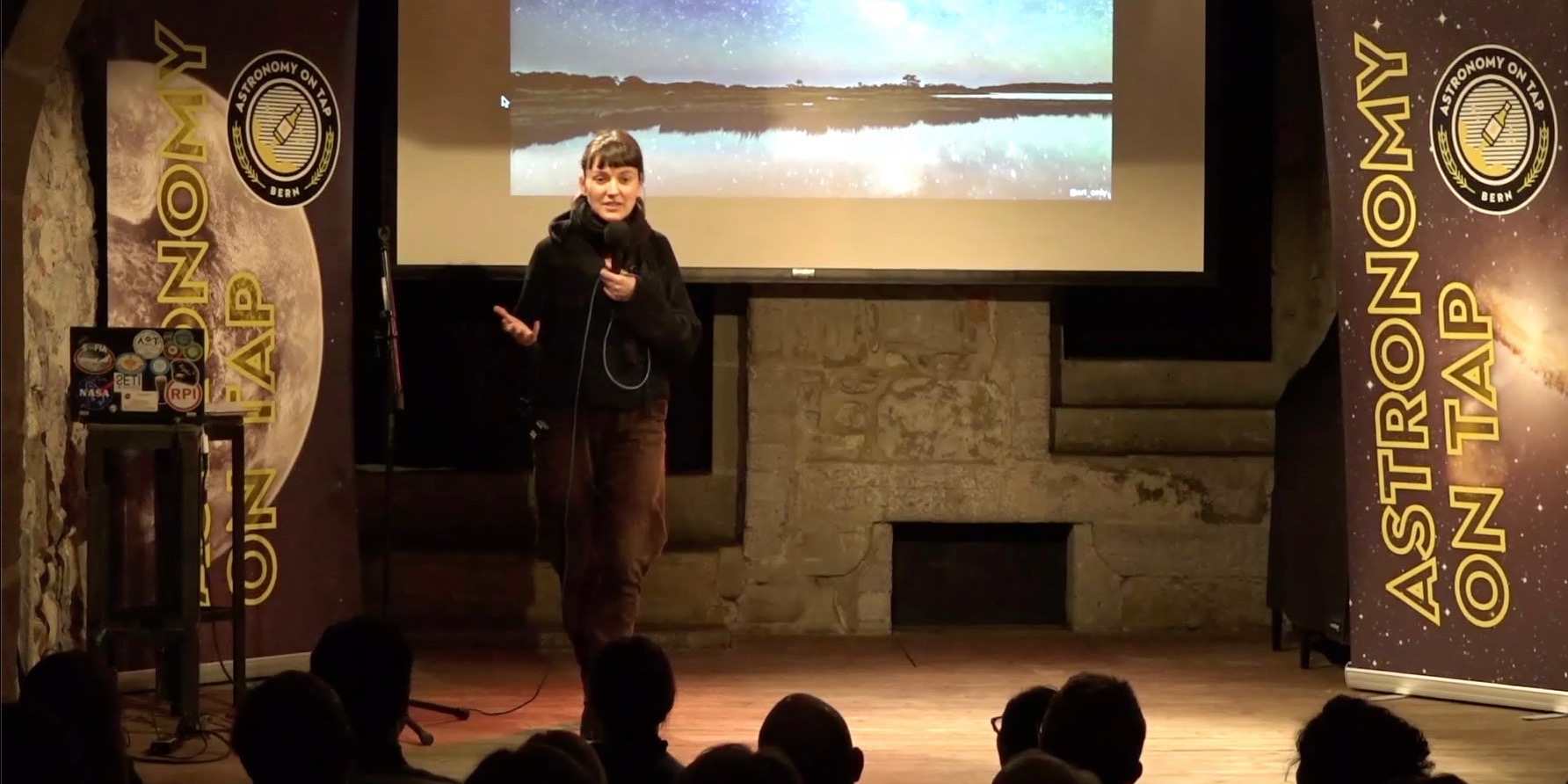 For the fifth time already, the public and free science slam "Astronomy on Tap" took place at "ONO Kulturlokal" in Bern. On the occasion of the "United Nations International Day of Women and Girls in Science" and the "IAU100 Women & Girls in Astronomy Day" on 11 February 2019, four female space scientists spoke about their research.
One of the logos of Astronomy on Tap Bern shows a rocket shaped like a beer bottle. Daniel Angerhausen of the Center for Space and Habitability (CSH) brought the series of events to Switzerland with the help of a grant from the University of Bern. And according to him the logo is a good picture for the status of this event series: "Astronomy on Tap has really arrived in Bern and is lifting off like a rocket." For many of the young, international researchers at the university, the English-language event is a 'must-attend' social event. But there are now at least as many 'normal' Bernese people coming. "We have a growing number of regular guests," says Angerhausen, "so to speak our AoT fan club – Bernese people who come back every time and bring an ever-increasing number of friends with them." The local media have also become aware of Astronomy on Tap, as for example this radio report on Radio RaBe shows: https://soundcloud.com/radiorabe/wissenschaft-in-der-kneipe-astronomy-on-tap
From the US to Switzerland
Astronomy on Tap (AoT, launched 2014 in New York City) is a worldwide network of popular science parties where scientists, teachers, authors, artists and others exploring the universe give lectures to the general public in a relaxed pub atmosphere. A typical AoT evening consists of three approximately 15-minute talks with equally long question-and-answer sessions where guests can ask specific questions about the individual talks or general questions about the universe. There will also be other fun activities such as AoT bingo and quizzes. The actively participating audience is rewarded with small gifts such as pins or posters from organisations like PlanetS, NASA, ESA or ESO or exclusive "Astronomy on Tap Bern" stickers.
Women in science
It was not for the first time that the Bernese science slam "Astronomy on Tap" featured a purely female cast. "Every day is 'Women in Science Day' for us," says the organizer. "For our last event in December, we already had exclusively female speakers. Gender Equality in science is very important to us and one of our goals is to inspire young girls and women and to break the stereotypes that only men can work successfully in the STEM areas."
Speaking of inspiration: AoT Bern already has the first spin-off in Switzerland. Switzerland's second so-called AoT 'satellite' was launched in Lausanne in November 2018. There it is organized by Chloe Carriere, who also was the first speaker at AoT Bern this time. She gave a presentation about many, partly forgotten or ignored women in the history of science. Other speakers were Paula Sarkis, who showed how to properly clean large telescope mirrors, and Andrea Guzman Mesa, who explained how to find and characterize exoplanets. At the end, Caroline Dorn took the audience on a journey through the Milky Way and back to themselves.
Astronomy on Tap – Bern on YouTube
Categories: External Newsletter, Uncategorized