Broaden your horizons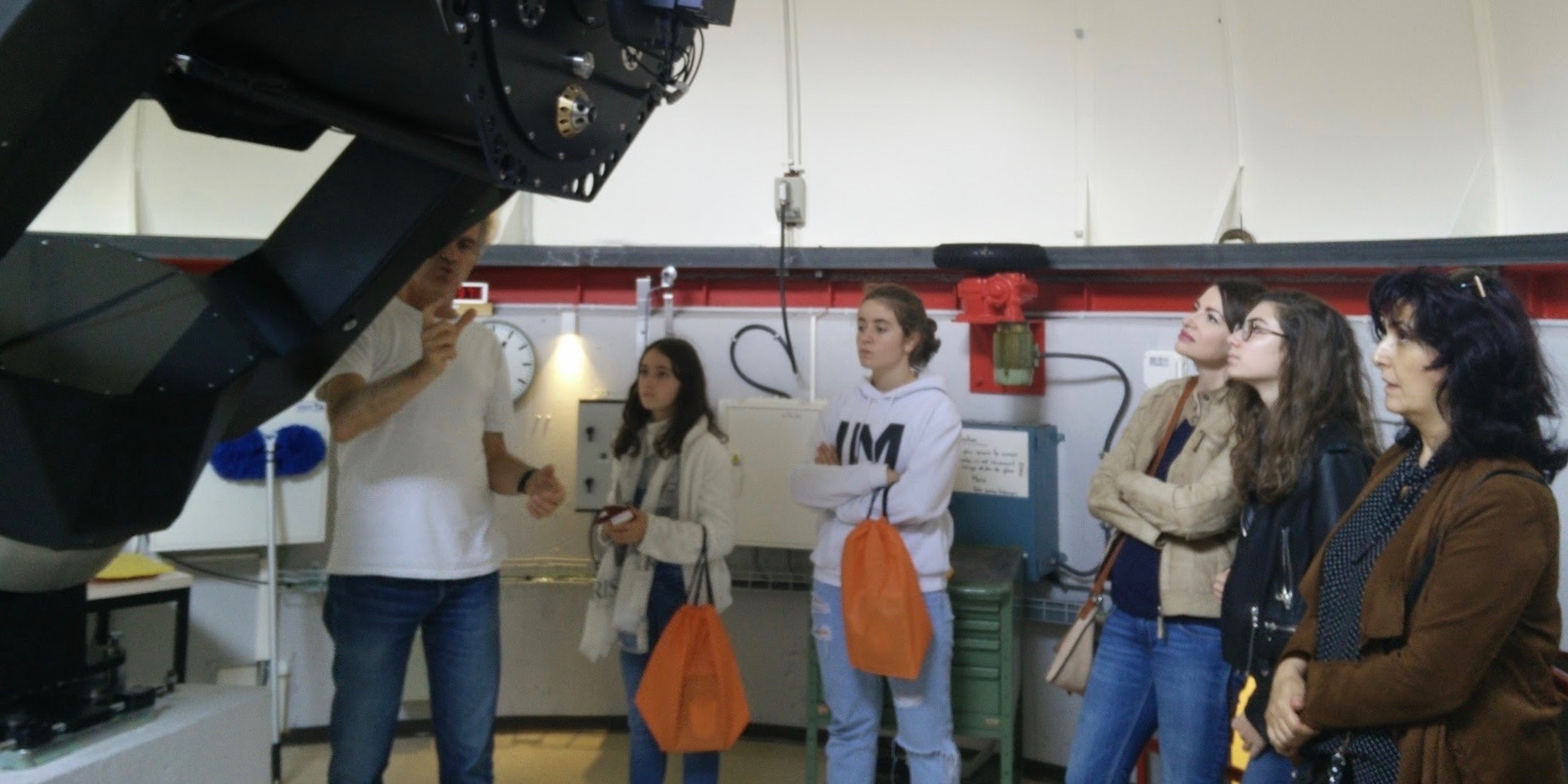 It was a year ago when in November the « Elargis Tes Horizons » Foundation organized with the University of Geneva a meeting between researchers from the Faculty of Science and about 500 young girls between 12 and 15 years old. The purpose of the foundation is to show girls that scientific research is within everyone's reach. PlanetS was present with a stand including the model of CHEOPS, to explain Switzerland's involvement in space research and to show them the opportunities for astronomy in the country.
In order to follow up, the foundation then offered the girls more in-depth visits to various research institutes in Geneva that were of particular interest to them. Seduced by astronomy, about ten of them chose to come to the Observatory of the University of Geneva in order to better understand the reality of astronomy research.
First surprise: the observatory is in the middle of the forest. "I thought we had to take a winding mountain road, because observatories are usually at the top of a mountain," exclaims one mother who is accompanying her daughter. It is a bright day and the ten young girls seem delighted to be in the woods of Versoix.
Second surprise: there is no telescope. To the question why there is no telescope in Geneva, many answers are given, but none mention the unfavourable weather conditions in Geneva in particular and in Switzerland in general.
Third surprise: we build instruments. The visit to the clean room is a real discovery: A part of NIRPS, an infrared spectrograph that will soon go to Chile, is being tested. Why is it made here, what is it for, who pays, how many people are working on it, why in Chile, why in Geneva? This time it is not the answers, that are coming together but the questions. Once a certain discomfort has passed, the young girls no longer have any reservations about asking questions.
"Could we go to live on another planet?" This question comes up very often from young people when we talk about exoplanets. It partly reflects their anguish that the Earth is threatened by human activity, with climate change at the forefront. We also feel a certain disappointment when we tell them that it would take 80,000 years to reach the nearest exoplanet to the Earth (Proxima b) at the speed of New Horizon, the fastest probe man has ever made and which flew over Pluto in 2015.
After the clean room and the mechanics workshop the small group visits the dome where the new recently installed 60cm telescope is waiting for them. Glad to finally see a telescope, the young girls express themselves on their presence at this visit.
"I love science in general," explains Anne (fictional first name), "it's my birthday today, so knowing my interest in research, it was my mom who signed me up for this visit as a gift and I think it was a success," says the girl smiling. Her comrade Marie (fictional) agrees but does not yet know well in which direction to go. "I want to do science but I do not yet know very well in which field" explains the young girl, "but I am especially a little afraid that it is too difficult" she admits.
A quote that makes one of the leaders of the « Elargis tes Horizons » Foundation, Kenneth Wong, jump. "We will never tell a boy that scientific studies are too hard, when this kind of discourse is recurrent for girls," Kenneth exclaims, "hence the raison d'être of our foundation."  "I don't know what I want to do," says Sonia (fictional) "but I like this kind of visit, it opens our eyes, to us girls ». (PB)
Categories:
External Newsletter