"Who doesn't want to be a comic-strip hero?"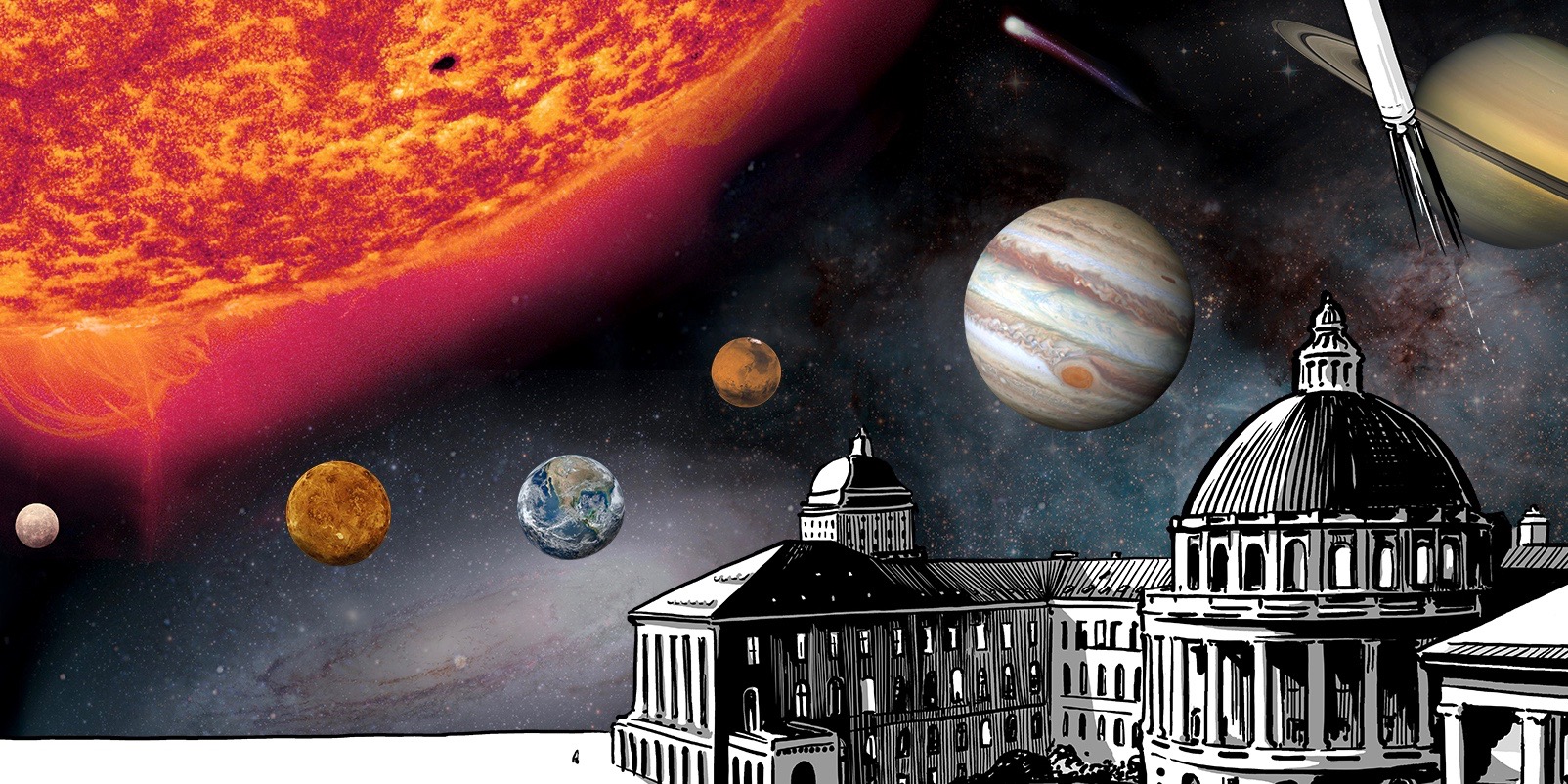 On 28 March 2018, the exhibition "Expedition Sonnensystem – Mit der ETH auf Forschungsreise durchs All" opened to the public at the ETH museum focusTerra in Zurich. Among others, seven scientists from the NCCR PlanetS can be seen there – in comics. PlanetS also contributed financially to the realisation of the exhibition.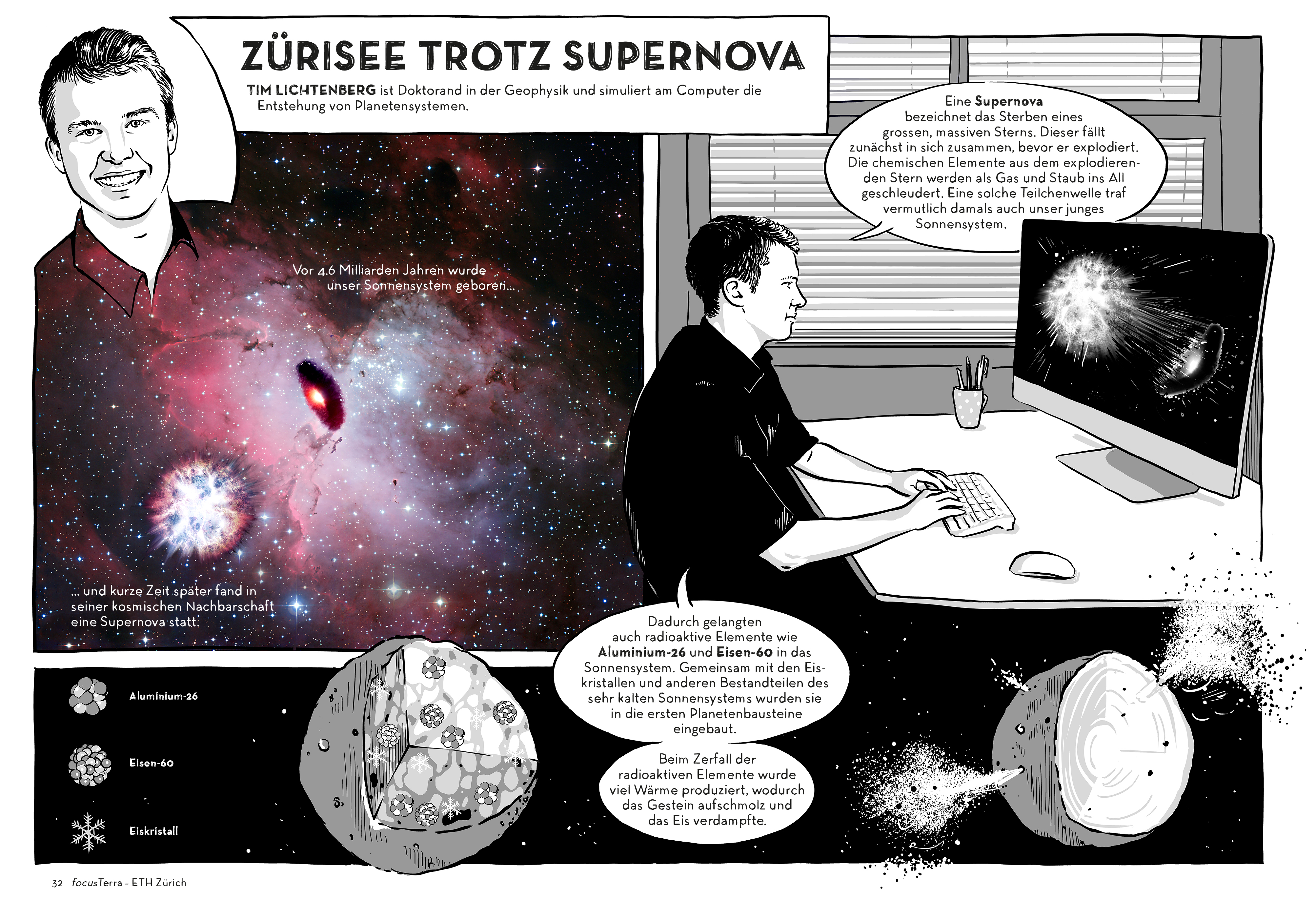 The new exhibition takes the visitors on a journey to the borders of our solar system. It asks the questions about what to discover and how to get there. Ulrike Kastrup, head of focusTerra, and her team followed the scientists and developed exciting stories that show what the explorers are looking for out there, what discoveries they made, what motivates them, and how they manage to see from a great distance into the deepest depths of planets.
Exciting experiments, animations, and workshops complement the experience. For example, visitors can trigger gravitational waves or shoot a probe to a distant planet.
Scientists as comic-strip heroes
In the exhibition, the researchers become the "heroes" of their stories. They introduce themselves personally and show the public how research really works. The presentation in the form of comic strips, as a mixture of science and art, offers an entertaining journey into the scientific world of our planetary environment for amateurs as well as experts.
Dr. Judit Szulágyi, ETH researcher and member of the NCCR PlanetS, is one of the portrayed scientists. For her to be a part of the exhibition is a strange feeling but a huge honour at the same time. "As a scientist, I believe it is part of our job to educate the public and to explain our research in a way that is accessible to everyone," says Szulágyi. She enjoyed the process to create this interplay of art and science. " I love it, I think it is really cool to look at yourself in drawing. Who does not want to be a comic-strip hero?", says Judit Szulágyi. She proudly shows a print of the comic strip hanging on her office door at ETH Zurich. "I often get questions about it," she says with a smile.
Tim Lichtenberg, PhD student and member of NFS PlanetS, is also one of the comic heroes. "The comics have really turned out great," says Lichtenberg. He thinks that the idea itself is ingenious, because the comics convey science through an easily accessible medium, which places the focus on facts, fascination, but also on the people behind the research. "This will show visitors that research is being carried out right in the middle of us, and not only by 'scientists in the USA', who are never within reach anyway," said Lichtenberg. Moreover, the comics are also funny for the readers. They are full of insider jokes for nerds, that can also be understood by people with less enthusiasm for science fiction or science. "What's more, the details succeed in explaining the research carried out."
Generating young researchers
Tim Lichtenberg is convinced that the discovery and characterization of exoplanets, which we experience today in astronomy, are historically on a par with the astronomical revolution of the human view of the world in the 17th century. "Earth is not unique, but there are probably unimaginably many worlds that are similar to ours, but at the same time very different from what we know from our 'home'," says Lichtenberg. "I hope that my comic strip will give visitors an insight into the fascination of this fact and the historical and philosophical consequences of this development." And with a smile he adds: "In the best case scenario, there are quite a lot of young visitors to the exhibition who would like to become scientists later on."
Judit Szulágyi confirms Lichtenberg's thoughts. She is convinced that everyone is at some point interested in the questions of how life came to be and whether there is life elsewhere. "People often stop dreaming about it. And when they grow up, they go and choose a boring job, instead of believing that they are capable of being a researcher too, who is searching for the big questions of our existence." Szulágyi hopes that the exhibition will raise awareness among young people that sciences are cool. And she points out: "Such interesting questions can be studied with the sciences like how our Solar System formed, how other worlds came to be and how come we are here to talk about all this."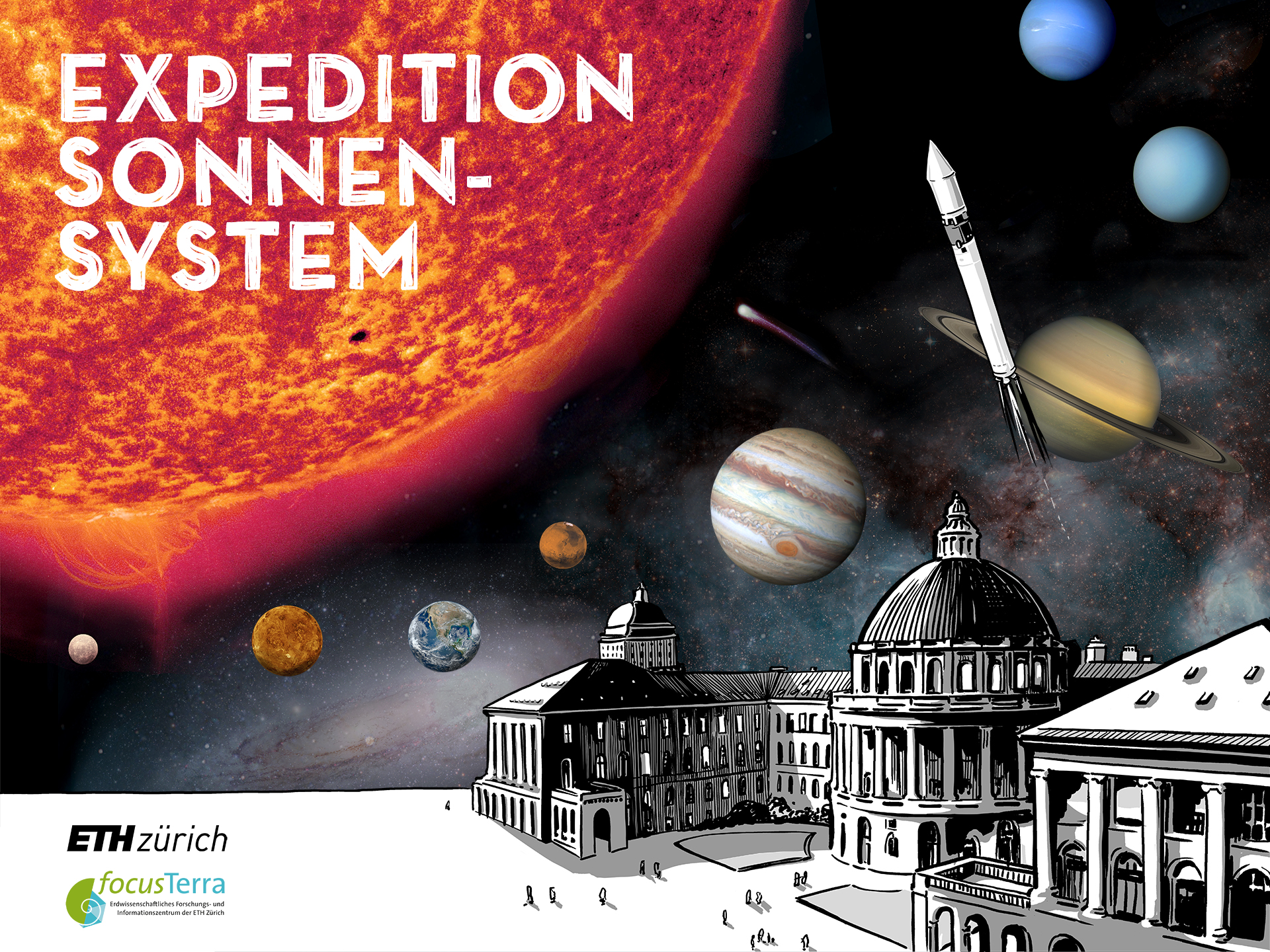 Exhibition "Expedition Solar System – Exploring the Universe with ETH Zurich" (in German)
28 March 2018 – 16 June 2019
focusTerra
ETH Zürich, Building NO
Sonneggstrasse 5
8092 Zurich
Opening hours
Monday to Friday 9 – 17 h
Sunday 10 – 16 h
Holidays: Information on the website
Public guided tours on Sunday
Admission free

The comic strip stories are available as books in German and English.
Further information is available at www.focusterra.ethz.ch
Photos of the opening (ETH Zürich/Guido Schwarz)

Categories: External Newsletter, News