Red grass, Einstein and ESPRESSO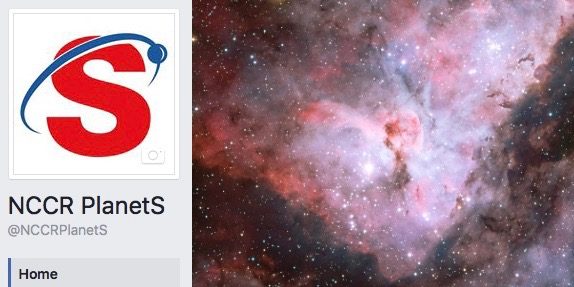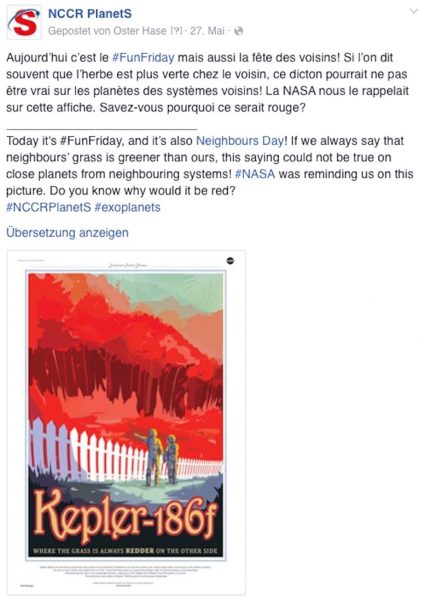 Since the launch of the PlanetS Facebook page in April 2016, every week the team of authors has published more than ten new posts. Here is a list of the contributions that reached the most people.
The winner with 2418 people reached is a story published on 27 May – Neighbors Day. It shows a picture of exoplanet Kepler-186f, "Where the Grass is Always Redder".
On second place (1765 people reached) there is the link to Einstein's paper about gravitational waves: http://einsteinpapers.press.princeton.edu/vol7-trans/25
And the bronze medal (1659 people reached) goes to ESPRESSO and a virtual visit of the new very high-resolution spectrometer that is in its integration phase in the new clean room of the Geneva Observatory as featured in the PlanetS newsletter "The Observer".
Among the top ten are:
The announcement of a media briefing about the first results of ESA's LISA Pathfinder mission.
The announcement of an exhibition in the Balexert shopping centre starting on 9th of May 2016, the day of the transit of Mercury.
The Federal Council's visit of the NCCR PlanetS and CSH at the University of Bern (see also "Swiss Federal Council on School Trip to the University of Bern").
The inauguration of the new building at the Geneva Observatory (see also "Open house day in Geneva Observatory").
The CHEOPS Science Workshop in June 2016 in Geneva.
The featured PlanetS collaborator of the month of May, Victoria Roloff.
The DACE platform participating at the @SwissCompanyMaker workshop at Fribourg.
Have a look at the PlanetS Facebook page and follow us: www.facebook.com/NCCRPlanetS
Categories:
Internal Newsletter