PlanetS in Washington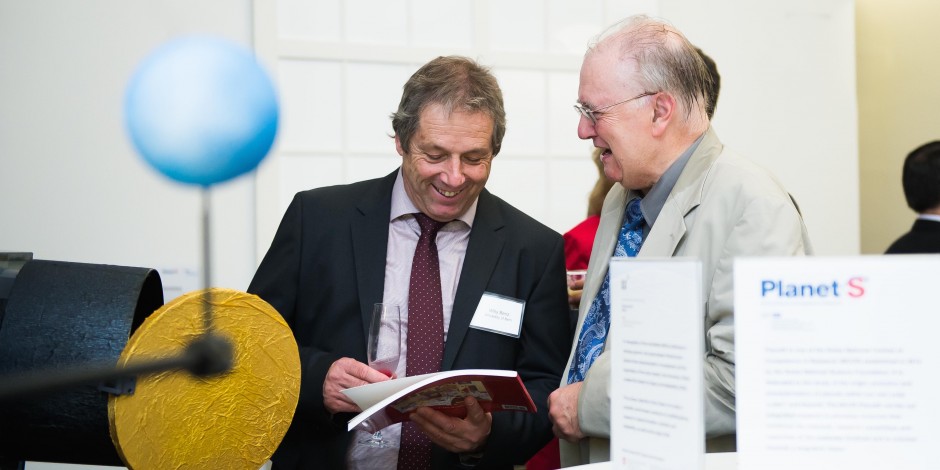 More than 1,200 diplomats, dignitaries, business representatives and other guests met on September 16th at the Swiss embassy's annual «Soirée Suisse». The event, which according to Ambassador Martin Dahinden celebrates the «rich and diverse friendship between our two nations» Switzerland and the United States, is known as the annual highlight at the embassy.
This year the event's theme was «Space and Aerospace». The University of Bern, the ETH Zurich, the EPFL and other representatives from industries and research had the opportunity to present the various aspects of Swiss space research and space technology.
Prof. Willy Benz and Guido Schwarz from the NCCR PlanetS had a large model of the CHEOPS space telescope and a simulation on display. They used it to explain to interested guests, how the new ESA missiont is prepared and carried out under the lead of Bern. In addition, the University of Bern presented the mass spectrometer of the comet-chaser Rosetta. So they could show that Switzerland is a world leader in space research.
Ambassador Martin Dahinden underlined this aspect in his speech. «It may come as a surprise to many, but Switzerland is a space-traveling nation. From space exploration to satellite communication, disaster relief and weather forecasting, representatives from some of our most innovative institutions are here with several fascinating exhibits», he said.
As part of the «Soirée Suisse» the Swiss astronaut Claude Nicollier, who is a four times Shuttle astronaut, was awarded the Tell Award 2015. He received the award in recognition of his achievements in the promotion of Swiss, European and American cooperation in space and as an ambassador for Switzerland
All photos of the event can be seen on Flickr: https://www.flickr.com/photos/101856555@N04/sets/72157658674968266/
Categories:
External Newsletter