JUnior Researchers' Assembly (JURA IV) 2023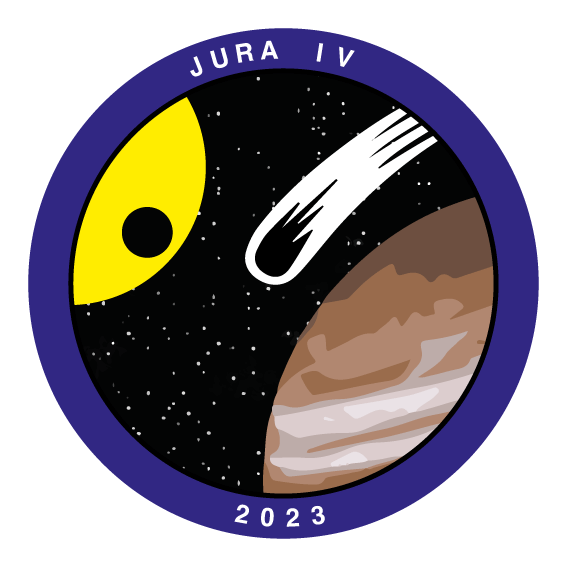 Welcome to the Fourth PlanetS JURA!
The JUnior Researchers Assembly (JURA) aims to bring together PhD students and postdocs working within the PlanetS framework. The conference is all-inclusive and has no registration fee. We thank PlanetS for their sponsorship of the JURA 2023.
The meeting will include science talks and posters, a professional development workshop (see below), time for informal networking and a social activity.
We strongly encourage eceryone to present their work by either presenting a poster (during the dedicated poster session) or by giving a talk. This is a friendly environment and we encourage you to present your work whatever your PhD/postdoc stage. New members of PlanetS are more than welcome to present their preliminary results or Master's theses.
Note that our total number of participants is limited, due to the level of funding awarded for the conference and the capacity of the hotel and that priority will be given to PlanetS members that have not yet attended a JURA in previous years.
Cancellation Policy: Registration implies a commitment. The SNSF does not allow the use of PlanetS funding in case of cancellation. Hence, not showing up at the meeting because you changed your mind for whatever reason will probably have financial consequences. In case of sickness or other emergencies this does not apply but might need a medical certificate in order to avoid paying.
Registration is closed.
Contact us at jura4th@gmail.com with any questions.
Key Logistics
Date & Time: May 8, 2023 (12:30) – May 10, 2023 (16:30)
Location: Hotel Meielisalp, Stoffelberg, 3706 Leissingen, Switzerland
Travel: For participants arriving by public transport, you will be picked up by the hotel with a bus in Spiez. The bus will only make a single transfer with all participants, therefore we want to coordinate everyone to arrive at the same time.
You should book your trains such that you arrive in Spiez with the 11:03 connection.
Travellers from Bern should take the 10:34 train.
Travellers from Zurich should take the 09:32 train, with a change in Bern.
Travellers from Geneva should take the 08:42 train, with a change in Bern.
Conference Block Schedule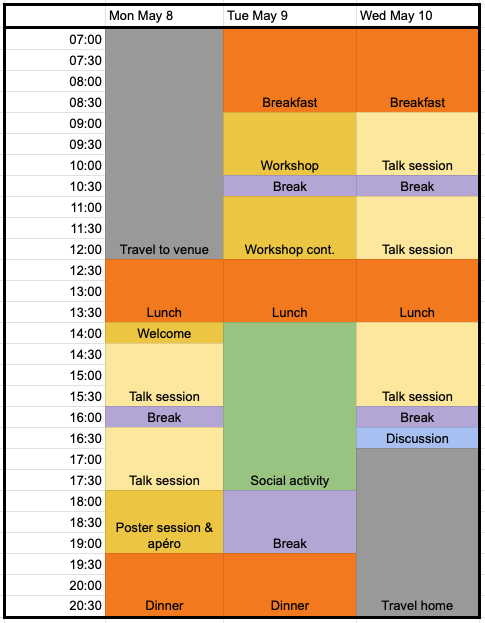 The booklet containing the abstracts of the talks and posters that will be presented can be found here: Link to abstract booklet
Workshop
We are pleased to announce that this year's workshop will be about how to structure and publish self-written Python packages. The workshop will be hosted by Dr. Oscar Barragán, who is a postdoc in the department of physics at the University of Oxford.
The participants of the workshop will acquire skills that are of interest for a lot of PlanetS members, as a vast majority deal with data analysis on a frequent basis, and likewise for members seeking non-academic future careers in a data science-related area.
Code of Conduct
The following section is adpoted from the JURA III 2022 webpage.
We are dedicated to a philosophy of equality of opportunity and treatment for all members, regardless of gender, gender identity or expression, race, colour, national or ethnic origin, religion or religious belief, age, marital status, sexual orientation, disabilities, or any other reason not related to scientific merit. Harassment, sexual or otherwise, is a form of misconduct that undermines the integrity of this meeting. We will take violations of the code of conduct very seriously.
Our full code of conduct is available here. To report behavior that violates the code of conduct to the SOC/LOC, either fill in this form or talk to any SOC member in person.
Scientific/Local Organizing Committee (SOC/LOC)
Jeanne Davoult (University of Bern)
Khaled Al Moulla (University of Geneva)
Lea Klaiber (University of Bern)
Linus Stöckli (University of Bern)
Nicolas Kaufmann (University of Bern)
Philipp Huber (ETH Zurich)
Thomas Meier (University of Zurich)
Acknowledgements
Special thanks go to Nadine Afram for supporting the organizing committee and facilitating the funding application and to Jonas Frey for his support regarding this webpage.