JUnior Researchers' Assembly (JURA II) 2019
The second PlanetS Junior Researchers' Assembly (JURA II) will take place on September 9-11, 2019 at the See- und Seminarhotel FloraAlpina in Vitznau. This special meeting is entirely focused on the PhD students and Postdocs of the NCCR PlanetS. It aims to bring this group of young people together in a less formal environment than the annual General Assembly. The goal is to foster interactions between the young researchers of PlanetS, giving them the chance to present their research in a less intimidating setting and to stimulate discussions and potential future collaborations between the different research areas within PlanetS. The meeting will consist of sessions with scientific talks, poster presentations, workshops and discussion rounds, but also long breaks to allow for social activities. Amongst the activities will be workshop by Dr. Sarah Rugheimer on Imposter Syndrome.
The retreat is organized by PhD students working at the PlanetS institutions in Bern, Geneva and Zürich and is supported by the PlanetS academic platform. The Junior Researchers' Assembly has an upper limit of 40 people, so please complete the registration as soon as possible. If the maximum number of places available is surpassed, a selection process will occur.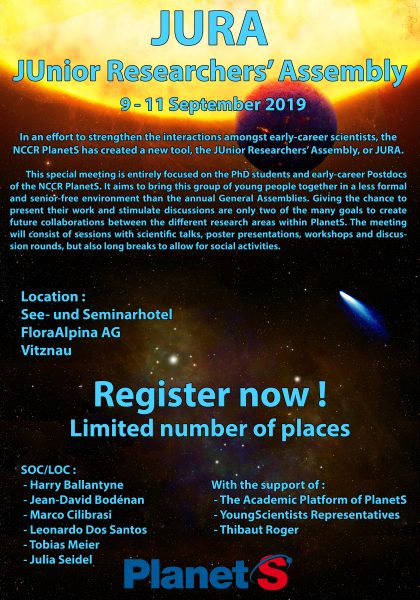 Registration
Important dates:
29 April 2019, Registration opens
10 May 2019, Registration closes
9  September 2019, ~13:00 am, Start of the JURA
11 September 2019, ~16:00 pm, End of the JURA
The Registration Form can be found here:
>> Registration <<
Location
See- und Seminarhotel FloraAlpina AG
Schibernstrasse 2
6354 Vitznau
LU – Switzerland
Website: https://www.floraalpina.ch/home.html
Email: welcome@FloraAlpina.ch
See- und Seminarhotel FloraAlpina: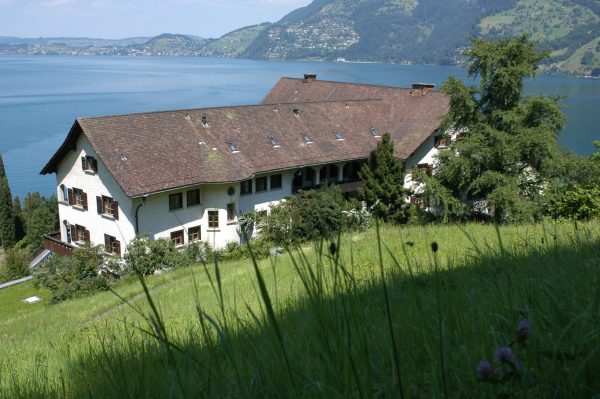 The hotel is located near Vitznau (Canton of Lucerne) embedded in the heart of Switzerland between the beautiful Lake Lucerne and Mount Rigi. There is also an outdoor, heated swimming pool and Jacuzzi that you can use during the JURA.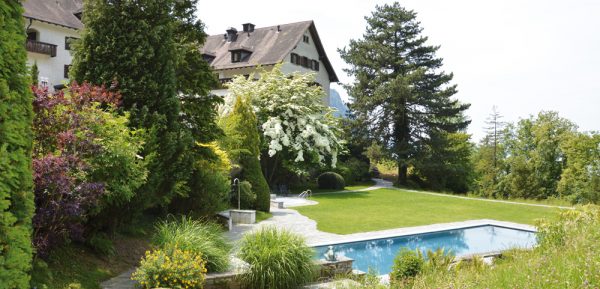 Travel:
We will organise the transport of the participants via public transportation or bus. You can also travel by your private car. However, please keep in mind that the expenses for rides with your private car will only be reimbursed (Fr. 0.60 / km) if it's cheaper than public transportation; e.g. if one participant can transport 2-3 fellow participants to the destination. If you intend to come by car and are willing to offer seats for car sharing, please let us know.
You can plan your route with Google Maps:
Reimbursement:
The NCCR Academic Platform will cover accommodation and travel expenses for all NCCR members and associates.
Code of conduct:
The JURA is dedicated to the philosophy of equality of opportunity and treatment for all members, regardless of gender, gender identity or expression, race, colour, national or ethnic origin, religion or religious belief, age, marital status, sexual orientation, disabilities, or any other reason not related to scientific merit. Harassment, sexual or otherwise, is a form of misconduct that undermines the integrity of this meeting. Violators of this code of conduct will be subject to discipline.
a) Expected behavior
Treat all participants with kindness, respect and consideration, valuing a diversity of views and opinions (including those you may not share).
Communicate openly, with respect for other participants, critiquing ideas rather than individuals.
Refrain from demeaning, discriminatory, or harassing behavior and speech directed toward other participants.
Be mindful of your surroundings and of your fellow participants. Alert JURA Committee if you notice a dangerous situation or someone in distress.
Respect the rules and policies of the meeting venue.
b) Unacceptable behavior
Harassment, intimidation, or discrimination in any form. Harassment includes speech or behavior that is not welcome or is personally offensive. Behavior that is acceptable to one person may not be acceptable to another, so use discretion to be certain respect is communicated. Harassment intended in a joking manner still constitutes unacceptable behavior.
Examples of unacceptable behavior include, but are not limited to:
Physical or verbal abuse of any participant
Unwelcome or offensive verbal comments or exclusionary behavior
Inappropriate physical contact
Unwanted sexual attention
Use of sexual or discriminatory images in public spaces or in presentations
Deliberate intimidation, stalking, or following
Harassing photography or recording, including taking photographs or recording of another individual's oral presentation or poster without the explicit permission of that individual
Sustained disruption of talks, question sessions or other events
Bullying behavior
Retaliation for reporting unacceptable behavior
Organising Committee:
Harry Ballantyne (harry.ballantyne@space.unibe.ch)
Jean-David Bodénan (jean-david.bodenan@erdw.ethz.ch)
Marco Cilibrasi (marco.cilibrasi@uzh.ch)
Leonardo Dos Santos (leonardo.dossantos@unige.ch)
Tobias Meier (tobias.meier@csh.unibe.ch)
Julia Seidel (julia.seidel@unige.ch)