Explore and discover the universe at «Nacht der Forschung»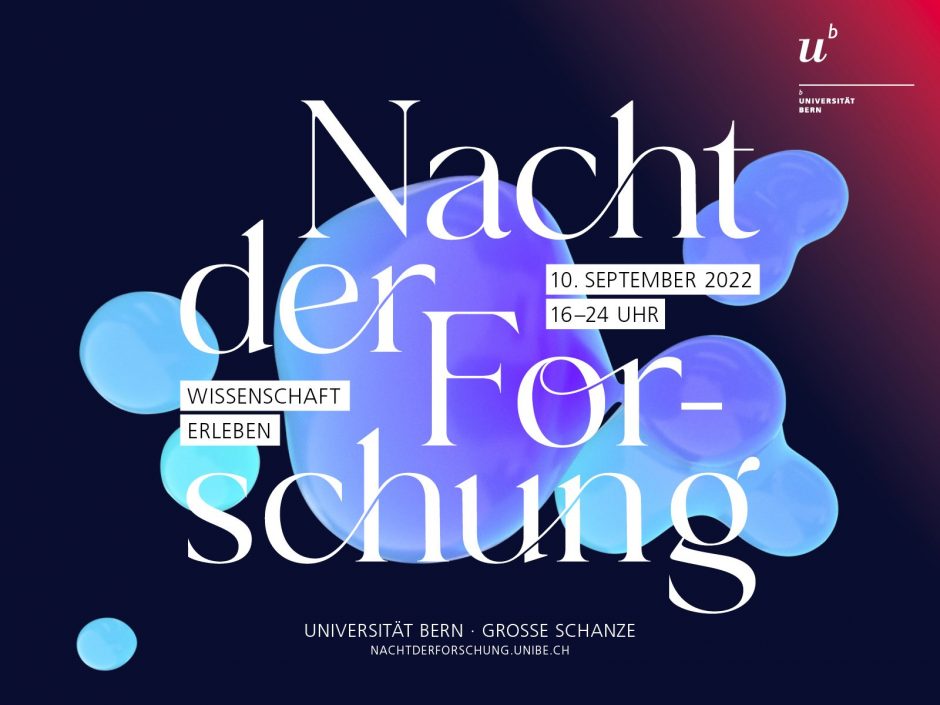 On Saturday, 10 September, the University of Bern invites you to the 4th edition of "Nacht der Forschung" (Night of Research) and a voyage of discovery into space with many exciting activities for young and old. And of course you will meet researchers who will give an insight into their work – explained in an understandable way and presented in an entertaining way.
Are you fascinated by space and want to learn more? Visitors to the "Nacht der Forschung" at the University of Bern have the opportunity to experience a wide range of exciting activities related to outer space and learn first-hand fascinating facts about various phenomena.
The experience already begins outside on the Einstein Terrace. Here, water rockets can be built from plastic bottles and then launched. Who will build the most beautiful and best rocket? Great fun for kids and teens. Those interested in the red planet can follow the activities of the remote-controlled Mars rover in the tent and marvel at fascinating images shot from the orbit of our neighboring planet by the Bernese stereo camera on the ExoMars space probe.
Weather permitting, the Astronomische Gesellschaft Bern (AGB) and the Astronomische Jugendgruppe Bern (AJB) will provide deeper insights into the sky with solar telescopes starting at 16:00 and with other instruments starting at about 21:00 and show you interesting objects like Saturn and Jupiter.
From asteroid impacts to comets made of dry ice
On the ground floor of the building Exact Sciences you will dive into the depths of space. In lecture hall 099, you can follow an exciting program of short presentations between 17:00 and 22:00 and learn more about the exploration of space. Or how about experiencing a laser experiment? You personally can start the experiment! There are also several exhibits to marvel at, such as a full-size model of the CHEOPS space telescope, measuring instruments from the ExoMars and BepiColombo missions, or an experiment that spent five years in space.
In the basement – in front of the gates to the CHEOPS laboratory – you can learn more about the discovery of exoplanets. And they can put on a real clean room suit and take a selfie!
The second floor is where the action is; have a mini-asteroid impact while seeing what happens during such an event. Our researchers, who work on impacts on moons and asteroids among other things, will provide you with exciting background knowledge.
On the same floor, you can also learn more about radio astronomy. With the infrared camera in operation here, you will suddenly see things that are otherwise hidden from our eyes. And if you want to learn more about astrochemistry, you can build interstellar molecules to see which building blocks of life can be found in space.
If you still haven't had enough, head to the third floor. Up there – very close to space, so to speak – you can lend a hand yourself and build a mini comet out of dry ice and other ingredients and learn more about the next comet mission with Bernese participation. You can also watch the animated films of the Rosetta comet mission and the CHEOPS mission in the improvised cinema. And with a bit of luck, you can follow live observations from the automatic observatory of the Stellarium Gornergrat next door.
Globi explores the universe
By the way: It's quite possible that you'll meet Globi on your research trip along the way. The cheeky and inquisitive bird recently spent a lot of time at the University of Bern and learned a lot about outer space. He has compiled his collected impressions in the knowledge book "Globi im Weltall," which will be available for purchase in all bookstores or at www.globi.ch from spring 2023.
The visit is free of charge and many program points are also suitable for children from about five years.
Date:          Saturday, 10 September 2022
Time:         16:00-24:00 hrs
Venue:       University of Bern
Website:    www.nachtderforschung.unibe.ch
Categories:
News