"Science is even more fascinating than sci-fi"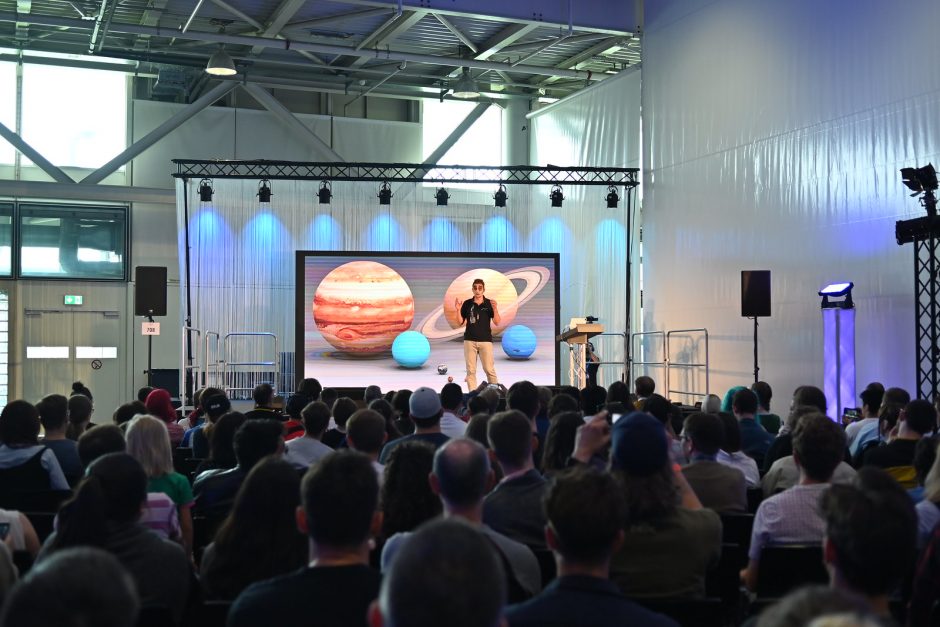 This year's Fantasy Basel concluded with a record: 62'000 visitors came to the mega event at the Messehalle Basel. Many also stopped by the exhibition of the Swiss Space Museum, in which the National Centre of Competence in Research (NCCR) PlanetS participated. There, they had the chance to marvel at a rich exhibition, try out experiments, listen to scientific presentations and talk to experts.
"If you like science fiction, keep reading it – but also give science a chance! It's actually even more fascinating", NCCR PlanetS member and Nobel Prize laureate, Didier Queloz, stated enthusiastically during his talk at the Space Stage at Fantasy Basel. A large crowd had gathered and eagerly listened to his presentation that covered the diversity of planets in the cosmos, the emergence of life on Earth, the reason behind the blue colour of our sky – and everything in between.
A cosmic voyage
The Fantasy Basel is Switzerland's largest popular culture convention. Visitors enjoyed book signings and readings by comic artists and novelists, panel discussions with well-known figures from film, fantasy and science fiction, film screenings and cosplay workshops. This year's edition of the three-day event resulted in a record-breaking 62'000 comic and sci-fi enthusiasts gathered in the Messehalle Basel.
A prominent part of the event was the Space exhibition. It took visitors on a journey of exploration through the cosmos. From information on and original artefacts of past, current and future missions in the solar system – including a model replica of the James Webb Space Telescope, planetarium shows to distant worlds around other stars, scientific experiments to pieces of real meteorites – no space related curiosity was left unquenched.
"The question is not if there is life out there, but whether we can detect it"
On stage, PlanetS-members delivered numerous talks on the science they do. Clémence Fontanive, for example, told the audience of the little known but fascinating cosmic objects called brown dwarfs that share characteristics with both stars and planets. Susanne Wampfler spoke about how stars and planets form and gave an overview of molecules that were detected in the galaxy that could be relevant for the emergence of life. Adrian Glauser pointed out that based on the sheer numbers of planets in existence, "there is no question whether life is out there or not – the question is, if we can detect it". With the proposed future mission of LIFE – an infrared space telescope that will be specialized in directly observing Earth-like planets, he hopes to one day do just that. Nicolas Thomas showed examples of the brilliant images that the Swiss CaSSIS camera takes of Mars and discussed their scientific uses.
Altogether, the interest in the scientific content that both the space stage and the exhibition offered was remarkably high. Some comic and sci-fi enthusiasts who visited the Space exhibition at the Fantasy Basel will likely have left convinced that science is indeed at least as fascinating as popular culture.
More impressions from the NCCR PlanetS at Fantasy Basel
Categories:
News