Bench2Biz 2021: save the date!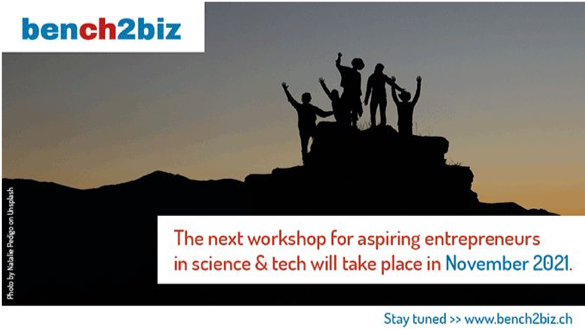 Bench2biz is a partnership between NCCR academic actors in high-technology fields to support aspiring entrepreneurs to determine rapidly the commercial merit of their idea or invention and offers a unique training within the entrepreneurial training market. More details can be found on the dedicated website https://bench2biz.ch.
Participants profit from an objective analysis of their very early stage idea that guides them to the identification of the best path forward as well as of the more challenging aspects of their project. A team of multidisciplinary professionals, including business and industry experts with real-life entrepreneurship or corporate experience, is brought around each champion to work together through specific modules. The workshop runs with an intense pace, provides practical tools, very little teaching, extensive teamwork and advance early-stage research performed by each team to be translated into real business opportunities. Our expert network includes coaches, industry representatives, IP specialists, TT officers, lawyers, etc.
The workshop has been running in Switzerland on an annual basis since 2010, attracting more than 50 ideas, about 350 community members, and empowering at least 18 start-ups. Since 2019, Bench2Biz has reoriented ourselves exclusively towards academic partners including the following NCCRs for the last edition: PlanetS, Chemical Biology, RNA&Disease, TransCure, Bio-Inspired Materials, Kidney.CH, and QSIT. The consortium is glad to welcome three new NCCR partners for the 2021 edition: NCCR Microbiomes, NCCR Dependable Ubiquitous Automation, and NCCR SPIN.
The next event is scheduled on November 2021: save the date! Follow Bench2biz on LinkedIn and Twitter.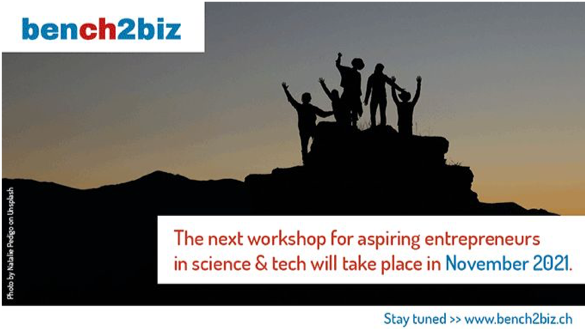 Categories:
Technology Platform