Yoldi Zuriñe, Dr.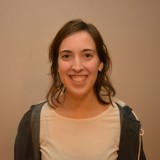 Alumni
Alumni
Please give us a personal quote or a quote of a famous person (e.g. of Albert Einstein) that describes you and your life/work.
"We put our eyes to the starry sky longing to arrive there, even if it is to find what is not for us, even if we have to accept the humble certainty that, in many cases, one life will not be enough to do that journey; when we put our eyes to the starry sky, I tell you, let us not forget that our feet lay on the earth, and that on earth the fate of men must occur. As a matter of humanity." José Saramago
Please describe your job in only one sentence and tell us what the most important goal of this work is.
I'm focused on the spectrometry and photometry of ice, frost and salts in relation to the martian surface. The objective is to make laboratory measurements that will support the CaSSIS observations in the future.
How did you get into this research/work field?
I had the chance of doing an internship at the laboratory of planetology in Grenoble, which made me discover this science.
What would be the greatest discovery you would like to see in your life time?
If you ask me when I've just gotten out of bed I'd say teleportation. The rest of the day I'd go for any way of making our society more egalitarian (…teleportation for everyone!)
You work for the NCCR PlanetS. What do you think will the NCCR enable you to do you couldn't do without it?
I like being able of knowing and collaborating with people around who work in the same field.