Conod Uriel, Dr.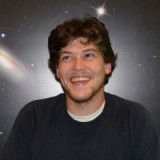 Alumni
Alumni
Please give us a personal quote or a quote of a famous person (e.g. of Albert Einstein) that describes you and your life/work.
"The most incomprehensible thing about the universe is that it is comprehensible" (Albert Einstein)
Please describe your job in only one sentence and tell us what the most important goal of this work is.
I work on the design of an adaptive optics system for the next generation of radial velocity spectrographs, the main goal is to control the size of such instruments in order to reduce their costs and increase their stability.
How did you get into this research/work field?
I have always been interested in instruments and astronomy, so I managed to combine both in my work.
What would be the greatest discovery you would like to see in your life time?
Direct detection of dark matter.
You work for the NCCR PlanetS. What do you think will the NCCR enable you to do you couldn't do without it?
With the NCCR I have the opportunity to work with probably the biggest and the most competitive team in the field of exoplanets in the world.