Toth Eniko, Dr.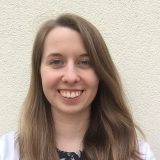 Alumni
Alumni
Please give us a personal quote or a quote of a famous person (e.g. of Albert Einstein) that describes you and your life/work.
"Learn from yesterday, live for today, hope for tomorrow. The important thing is not to stop questioning." (Albert Einstein)
Please describe your job in only one sentence and tell us what the most important goal of this work is.
I measure and analyse the Cadmium isotope composition of meteorites to better understand the early chemical composition and evolution of our Solar System.
How did you get into this research/work field?
I have always been fascinated with meteorites and interested in learning more about the formation and evolution of our Solar System.
What would be the greatest discovery you would like to see in your life time?
Discovery of an extraterrestrial life form.
You work for the NCCR PlanetS. What do you think will the NCCR enable you to do you couldn't do without it?
It will provide me the opportunity to meet and learn from people both within and outside my direct research field who share my scientific interest.