Tewlin Michèle, Ms.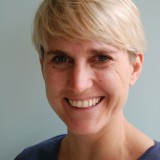 Alumni
Alumni
Please give us a personal quote or a quote of a famous person (e.g. of Albert Einstein) that describes you and your life/work.
"Twenty years from now you will be more disappointed by the things you didn't do than by the ones you did do." (Mark Twain)
Please describe your job in only one sentence and tell us what the most important goal of this work is.
I work for the NCCR PlanetS as an administrative assistant at ETH Zurich in the team of Maria Schönbächler and am responsible for the financial issues of her projects.
How did you get into this research/work field?
After the birth of our first child I started to work part-time at ETH as an administrative assistant.
What would be the greatest discovery you would like to see in your life time?
Treatment of incurable diseases.
You work for the NCCR PlanetS. What do you think will the NCCR enable you to do you couldn't do without it?
Collaboration with various Swiss Universities.