Tsai Shang-Min, Mr.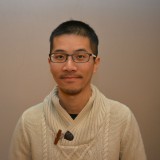 Alumni
Alumni
Please give us a personal quote or a quote of a famous person (e.g. of Albert Einstein) that describes you and your life/work.
"Single-blade razors work better than multiple-blade razors." (Marko Sestovic)
Please describe your job in only one sentence and tell us what the most important goal of this work is.
I develop a chemical kinetics model to obtain the atmospheric compositions of exoplanets.
How did you get into this research/work field?
I majored in physics for my undergraduate and found my passion in research when doing my masters project. I particularly enjoy the fast-pace and multidisciplinary in the field of exoplanet.
What would be the greatest discovery you would like to see in your life time?
Finding compelling biosignatures!
You work for the NCCR PlanetS. What do you think will the NCCR enable you to do you couldn't do without it?
NCCR brings together planetary scientists from a diverse disciplines. It is not easy to find a place that one can have a very technical discussion and at the same time learn from all the interdisciplinary expertise of people with a common interest in planets.