Josi Christoph, Mr.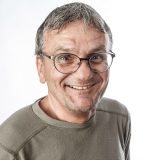 Alumni
Alumni
Please give us a personal quote or a quote of a famous person (e.g. of Albert Einstein) that describes you and your life/work.
"Someone who does not want (to do something), finds a reason. Someone who does, finds a way."  (Götz Werner)

Please describe your job in only one sentence and tell us what the most important goal of this work is.
In the electronics workshop, I help our engineers to build and test new circuits and control boards. I also pursue a mid term goal to build a complete and optimized image detector with optimal performance.
How did you get into this research/work field?
It happened by chance. I was responsible for syllabus, training, and education of electronic technicians in their apprenticeship, but I never stopped tinkering and working on "garage inventions". This brought me to the university and now I can fully satisfy my interest in experimental work. I am very happy about the change und love my work.
What would be the greatest discovery you would like to see in your life time?
Generally, I admire breakthroughs and pioneering work that allows real advancement of knowledge like measuring the first gravitational waves last year.
You work for the NCCR PlanetS. What do you think will the NCCR enable you to do you couldn't do without it?
It enables me to work with colleagues in a unique working environment that provides access to state of the art equipment and the best tools. Knowing that this work is important for space science is also a big plus and very rewarding.