Drozdovskaya Maria, Dr.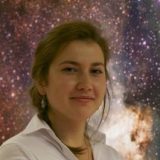 Formation & Evolution, 1.0_project, 2.0_project, Associated member, Center for Space and Habitability, Universität Bern
CSH Fellow / SNSF Ambizione Fellow / IAU Gruber Foundation Fellow
Associate

3012 Bern
+41 31 631 34 43
Please give us a personal quote or a quote of a famous person (e.g. of Albert Einstein) that describes you and your life/work.
"A line is a dot that went for a walk." (Paul Klee)
Please describe your job in only one sentence and tell us what the most important goal of this work is.
I work on pinpointing the chemical heritage of prestellar cores as it is embedded into comets and planetary embryos. I would like to uncover what our astrochemical ancestral tree looks like.
How did you get into this research/work field?
I have been passionate about astronomy ever since I was little thanks to my dad. I was lucky to have moved to Leiden, which is blessed with a powerful astronomy department.
What would be the greatest discovery you would like to see in your life time?
One of the big questions in the field of astrochemistry is exactly how complex the chemistry gets under interstellar conditions. I hope steps can be undertaken to quantify the first astrobiological steps to life.
You work for the NCCR PlanetS. What do you think will the NCCR enable you to do you couldn't do without it?
Being embedded into such a large community with vital expertise on planet formation and exoplanet observations will undoubtedly help me relate my work on the earliest phases of star formation to more mature stages of planetary systems.