Allart Romain, Mr.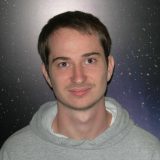 Planetary Atmospheres, 3.0_project, 3.2_project, Université de Genève, Département d'Astronomie
PhD Student
1290 Versoix
+41 22 379 22 64
Please give us a personal quote or a quote of a famous person (e.g. of Albert Einstein) that describes you and your life/work.
"The known is finite, the unknown infinite; intellectually we stand on an islet in the midst of an illimitable ocean of inexplicability" T.H. Huxley
Please describe your job in only one sentence and tell us what the most important goal of this work is.
Search atomic and molecular species in the atmosphere of exoplanet.
How did you get into this research/work field?
I always like stars but when I star my master, the field of exoplanet (and their atmosphere) was obvious.
What would be the greatest discovery you would like to see in your life time?
Find a trace of life outside the solar system.
You work for the NCCR PlanetS. What do you think will the NCCR enable you to do you couldn't do without it?
The NCCR is an opportunity to meet people from different university and differents fields to improve our understanding.