Rosetta Finale
30/09/2016 @ 11:00 - 13:10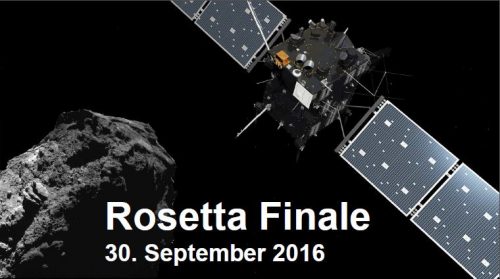 Date
Friday, September 30th 2016, 11:00 – ca. 13:10
Venue
The meeting will take place in Meeting Room 099 at the ExakteWissenschaften(ExWi), Sidlerstrasse12 (refer to map) near the train station.
Restaurant
At 13:10 we will have a small meal at the Eingang UG A + EG, UniversitätBern, ExakteWissenschaften(ExWi), Sidlerstrasse12, 3012 Bern.
Travel
Bern is accessible from both Zurich and Geneva.  Train tickets can be purchased at www.sbb.ch.
Directions to Exakte Wissenschaften building (ExWi)
Bern Tourism
About
On Friday, September 30, 2016, the Rosetta spacecraft will perform a controlled final approach to comet Churyumov-Gerasimenko. In the end, it will land upon the tiny celestial body.
For the purpose of the mission's end, University of Bern invites for a live-broadcast and short presentations, starting at 11 am at Siedlerstr. 12. If you want to participate, please register at info@csh.unibe.ch your name and number of persons no later than September 25.
More about this event: http://rosetta-finale.ch/
Related Events