The hunt for habitable planets
5 September 2015: Take part in the event «Planetenjagd». How did life originate on Earth? Could life develop elsewhere in the universe? Ask scientists, listen to short lectures, take part in workshops for children and adults – and solve the quiz!
Physicists, geologists, biologists, chemists, philosophers and theologians of the «Center for Space and Habitability» CSH, University of Bern, investigate together the development of the basic requirements of life. They explore the universe with space probes and telescopes. They determine the origin of the water, survey meteorites and traces of microorganisms. And they reproduce the emergence of the elements of life and search for the nature of life.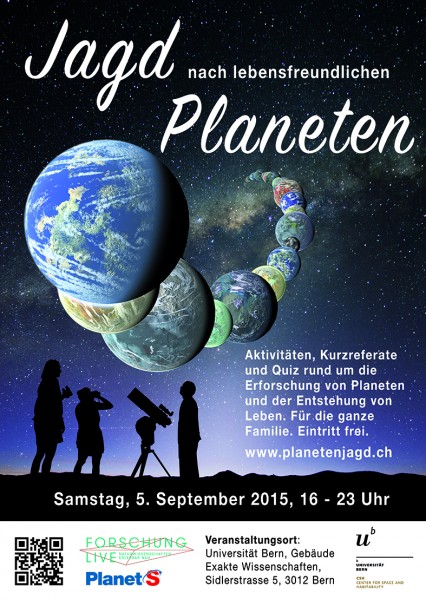 At the event «Planetenjagd» on Saturday, 5. September 2015, visitors of all ages can explore this exciting topic. They have the opportunity to meet Bernese researchers and can ask all the questions they always wanted to ask. And of course they can do it hands-on.
Have a look at the CHEOPS laboratory, where the ESA space telescope is tested for the harsh conditions in space. Put on a costume and take a Selfie you can share with family and friends. In a workshop, visitors can create their own realistic mini-comets. On the top of the roof they can observe the wonders of the night sky (clear weather required).
In exciting workshops children can make their own star charts or can tinker paper models of the Rosetta spacecraft and the CHEOPS space telescope. A researcher passport certifies when they reach the status of a junior, assistant or professional researcher. And our quiz offers attractive prizes.
Suitable for the whole family. Possible without prior knowledge. Free admission.
Date:           Saturday, 5. September 2015
Time:          16 – 23 h
Location:    University of Bern, building of Exakte Wissenschaften, Sidlerstrasse 5, 3012 Bern
Infos: www.planetenjagd.ch
Categories:
External Newsletter