Workshop "The links between Industry and Academia"
Registration Deadline: 9th April 2018, 23h59
Description of the event
ID card of the event

Subject: Links between Industry and Academia in space sciences.
When: Tuesday 17th of April 2018. From 10h00 or 11h00 (TBD) until 17h00.
Where: Zürich, Physik-Institut der Universität Zürich.
Attendants: Focus on the juniors of PlanetS, but seniors are welcome to give talks and share their experience.
Contact person: Thibaut Roger, Tomas Tamfal.
According to a 2011 Swiss survey, 54.5% of people who got a PhD, were working in an area outside academica one year after they finished their PhD, and the long postdoc phase is also problematic for private industries […] to recruit best-qualified personnel at a timing where it is still flexible. Other US studies from AIP show similar rate for Physics PhD holder, but this rate decrease to 20% regarding astronomy, with part of the 80% continuing in postdoc seeing this more as a necessity for future employment than as a choice. Other people also compared "the statistical odds of a long-term career in astronomy to the chances of becoming a professional athlete". It is therefore interesting for the juniors of PlanetS to get an overview of the other possibility they could have in the domain of astronomy and space.
To that extent, in a 1-day PlanetS workshop going to occur the Tuesday 17th of April 2018, organised with the support of the Academic Platform, we intend first to discuss the links between the Academia and the Industry, particularly in the domain of space research and exploration. The format will differ slightly from a traditional workshop as the accent will not be put on scientific results, but on people sharing their experiences regarding those links, what are the interactions between the two, from each one point of view, and how to transition from one to the other, in both directions.
In a second time, from 15:00 to 17:00, we will visit RUAG Space AG, a company specialised in the development and manufacturing of satellite and launch vehicle equipment. Examples of their collaborations include CHEOPS or Ariane V. The visit will consist in a tour of the Zürich site, followed by a talk and discussion with their Head of Research&Development, Franck Mouriaux.
Due to constraint on this second part of the day, the number of attendants for the workshop is limited to 25 people maximum. As such, participation will be granted on a first come first served basis, with priority given to the juniors of PlanetS, except of course for people willing to give a talk to share their experience regarding links between Industry and Academia.
Program
More information to come soon, after registrations are completed.
Time
Speaker
Subject
10h00-10h15
Welcome and coffee
10h15-10h45
 Sascha Quanz, 
Senior Staff Scientist, ETH Zürich
The "good" and the "bad" about working as a management consultant.
10h45-11h15
 Alessandro Pasetti, 
Senior Satellite Engineer
From R&D at ESA, to consulting for industrial space project, going by university research.
11h15-11h45
 José Barbosa, 
Director of RDA – Research and Development in Aerospace GmbH
A parallel track – from Particle Physics to Earth Observation
11h45-12h00
Free Discussion
12h00 – 13h15
Lunch break
13h15 – 13h45
Claudia Röösli,
R&D and Project management at UZH/ESA
From GPS and tachymeter to R&D and project management for ESA
13h45- 14h15
François Wildi,
Instrument designer in Geneva Observatory
Keep your eyes open. Industry is not what you think. Neither is academia
14h15-14h30
Free Discussion
14h30 – 15h00
Travelling from UZH to RUAG Space AG + Security checks
15h00 – 15h45
Franck Mouriaux, 
Head of RUAG Space AG R&D
Tour of the RUAG facilities
16h00 – 17h00
Franck Mouriaux, 
Head of RUAG Space AG R&D
Presentation of RUAG Space AG and discussion
Venue
The workshop will be held in the Physik-Institut of the Zürich Universität, Irchel Park campus.
Address: Building 16, Winterthurerstrasse 190, 8057 Zürich
Room: Building 10, floor G, room 03-04.
Directions: From main trainstation Zürich Hauptbahnhof.
Either: take tram 10 (direction 'Zürich Flughafen' or 'Bahnhof Oerlikon') and get off at stop 'Universität Irchel'
Or: take tram 14 (direction 'Seebach') and get off at stop 'Milchbuck'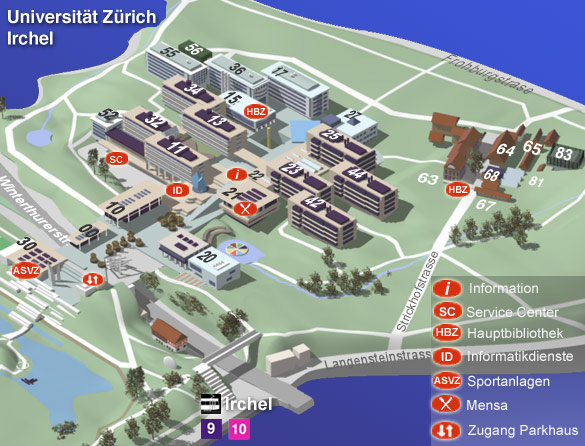 Registration
Sorry. This form is no longer available.