Kuga Maïa, Dr.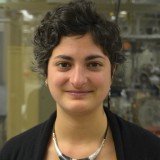 Alumni
Alumni
Please give us a personal quote or a quote of a famous person (e.g. of Albert Einstein) that describes you and your life/work.
The impossible we cannot reach but use it as a guide.
Please describe your job in only one sentence and tell us what the most important goal of this work is.
I study noble gases trapped in meteorites in order to better understand planet formation, and in particular the Earth and its atmosphere.
How did you get into this research/work field?
Curiosity and enjoyment of continuously learning.
What would be the greatest discovery you would like to see in your life time?
A renewable energy which wouldn't have any environmental impact.
You work for the NCCR PlanetS. What do you think will the NCCR enable you to do you couldn't do without it?
To work in a high quality lab and to interact with astrophysicists which, as a cosmochemist, is quite rare usually!