Survey: PlanetS Members feel well informed
In October, the communication team conducted a survey of PlanetS members and associates on communication and outreach. With the survey, the communication team wanted to find out how well the PlanetS members are informed about the latest news and topics relevant to them, which communication channels and service offerings are used for outreach and how, and where they see potential for improvement.
A total of 60 people participated; almost 54% of them work at the University of Berne, 23% at the University of Geneva and 23% at ETH Zurich or the University of Zurich.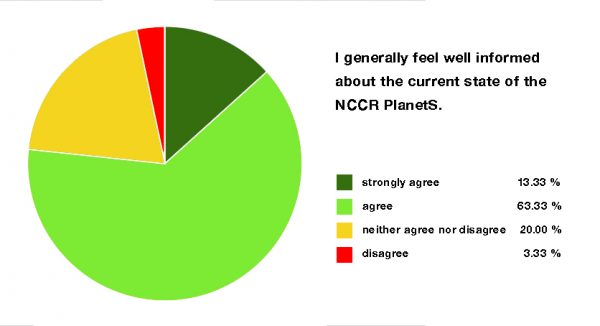 It is encouraging to note that the majority of participants (76.7%) feel well to very well informed about current affairs at PlanetS and have access to relevant information (75.9%) . They primarily obtain information through colleagues (32.2%), through their bosses (30.5%) or through the communication channels of PlanetS (29.3%).
The newsletters "The Observer" (65%) and "InsiderS" (70%) are always or at least sometimes used as sources of information, whereby the "InsiderS" is, as expected, the more important source of information for PlanetS members, since this newsletter is more specifically designed for the information needs of the members, while the "The Observer" is primarily aimed at a broad, external audience. The majority of survey participants are also satisfied with the content ("The Observer" good 43.3%, sufficient 21.7%; "InsiderS" good 40%, sufficient 35%). The main reason why the newsletters are not read regularly is the lack of time.
The website is another important source of information. However, some survey participants still see potential for improvement in terms of page layout and usability. In addition, not everyone uses the Internal Pages. This is despite the fact that important information can be found on the Internal Pages. Therefore, the communications team considers it important to make these pages better known to PlanetS members.

The same applies to the Communication Team's offerings to help members communicate their research results to the media and provide outreach material. Here, several respondents have noted that it would be important to make these offers more visible. Interestingly, the benefits of outreach for some of the members does not seem to be clear either, which certainly requires more information.
The communications team has also received numerous concrete suggestions for improvements. For example, it was mentioned that too few women are still visible in the communication of PlanetS. The responsible team will seriously consider all proposals and aim for changes.
The communications team will briefly explain the key results of the survey at the General Assembly. If you have any questions about the survey, please directly contact Guido Schwarz from the communications team.
Categories: Internal Newsletter, Uncategorized