SwissCompanyMaker 2018: Register now!
You have an idea and want to know if it is worth pursuing commercially? You want to know what the next steps should be? Participate in the pre-seed workshop of SwissCompanyMaker for aspiring entrepreneurs in science and technology in April 2018.
Scientists often develop interesting ideas and cutting-edge technology that never find their way into the commercialization. Therefore, the SwissCompanyMaker consortium – the NCCR PlanetS is a part of it – announced its next pre-seed workshop a few days ago. The workshop will be held on April 17, 18 and 25, 2018 at the Köniz Castle (Kulturhof), Köniz-Bern, to host idea champions from all over Switzerland.
The workshop targets very early to early high-technology entrepreneurial ideas from all fields and prepares for the entry into the existing Swiss start-up promotion ecosystem. Participants benefit from fast-paced sessions, guidance specifically adapted to their project, support from recognized industry experts and networking opportunities.
Aspiring idea champions and interested people can also apply for a preliminary training on intellectual property offered by the IPI in Bern, on January 29th, 2018. This will introduce participants to the world of IP protection and the "does and don'ts" of managing the intellectual property.
Preliminary Training on intellectual property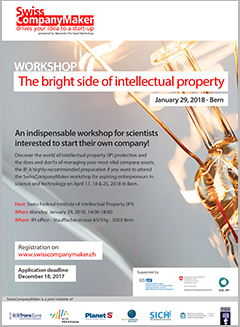 Deadline for application: December 18, 2017
Registration form
When: January 29, 2018
Where: Federal Institute for Intellectual Property, Bern
Max. number of participants: 30
SwissCompanyMaker pre-seed workshop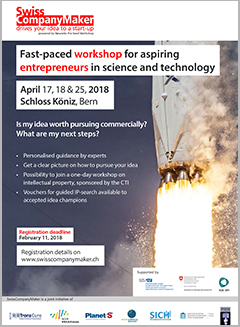 Deadline for application: February 11, 2018
Registration form
When: April 17, 18 & 25, 2018
Where: Schloss Köniz, Köniz-Bern
Max. number of teams: 12
Application and participation to both workshops are free of charge.
For more information go to www.swisscompanymaker.ch
Categories:
Internal Newsletter