Insights into current topics in gender research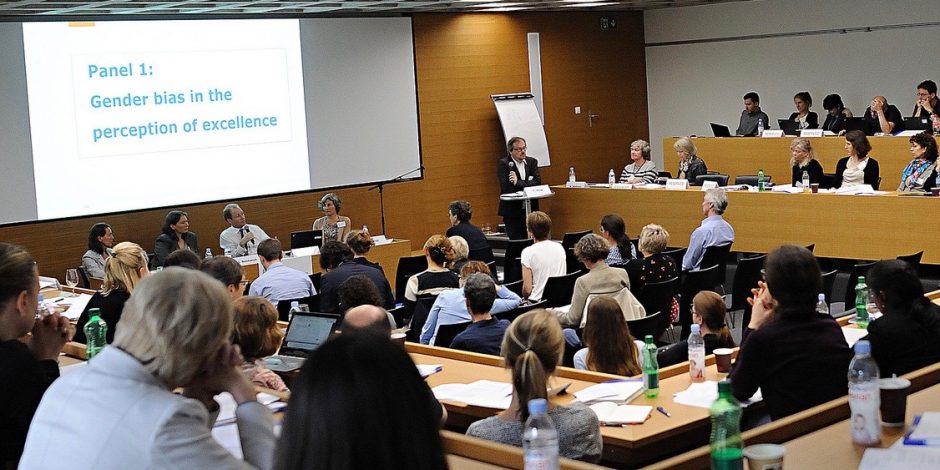 By Nadine Afram
Gender analysis in research and research funding is a hot topic and it is seen, for example, as a priority in Horizon 2020. In the next few issues, I will present some of the current topics that are discussed in gender research.
Decision-making positions in science are still male dominated which leads to an underrepresentation of women influencing the research agenda. The reasons for this imbalance are manifold, and gender research in academia looks into the potential bias in the perception of excellence (in hiring processes and proposal evaluations) and into the inclusion of the gender dimension in certain research areas. By listening to presentations dealing with these subjects, I was struck by some eye-opening mechanisms, such as the ample scope in interpreting the same expertise and downgrading or upgrading an applicant based on an implicit gender bias. The reasons for assessing excellence differently for men and women can be buried in an unjustified association of excellence with male traits. The insights I gained from attending talks on this issue made me more attentive to the use of language when interpreting and evaluating others:
Insight 1: In evaluation processes, the same background is interpreted differently depending on the applicant's gender
The gender component is present in evaluation processes, such as hiring processes or grant proposal selections. The same experience or characteristic is interpreted differently depending on the applicant's gender:
| | Interpretation for woman | Interpretation for man |
| --- | --- | --- |
| "Applicant is expert in one field" | She is limited. | He is profound. |
| "Applicant has experience in various fields" | She is shallow. | He is extensive. |
| "Applicant is successful" | She is ambitious. | He is excellent. |
| "Applicant publishes a lot with others" | She is dependent. | He has a strong network. |
Also, in evaluating applicant's grant proposals, women are evaluated based on their past performance,  while men are evaluated on their potential. Another interesting fact is that the decision is made faster for women, while men are discussed longer than women. Therefore, male applicants will be remembered if they apply again.
Insight 2: The perception of excellence can be gender biased
The use of the term 'scientific excellence' is problematic, as it is still attributed to an 'ideal researcher' who is mainly white, male, has no family responsibilities and is ready to sacrifice the full person to the 'greedy occupation'. There is ample evidence for gender bias in selection procedures, and an analysis of the interplay of gender and excellence in a sample of interviews (conducted with decision-making bodies in higher education in Switzerland and with gender equality experts) showed different positions:
'Gender equality contradicts excellence'
'Gender equality challenges excellence'
'Gender equality is a prerequisite for excellence'
'Gender equality is not related to excellence' (which is replaced by 'quality')
Typical statements for #1: 'No pain, no gain' is the underlying idea: part-time research is not possible (ignoring the fact that full-time researchers also teach/have organisational duties and in fact only do part-time research). Meritocracity is taken for granted. Sacrificing other things for research is natural. Solution 'fix the woman'.

[Notes from presentations by Anna Wahl (KHT Stockholm, http://www.snf.ch/SiteCollectionDocuments/Web-News/160705-news-gender-excellence-wahl-anna.pdf) and Julia Nentwich (University of St.Gallen, http://www.snf.ch/SiteCollectionDocuments/Web-News/160705-news-gender-excellence-nentwich-julia.pdf) at the SNSF "Gender and Excellence: Challenges in Research Funding II" conference, 21 June 2016, Bern, Switzerland.]

In the next issue, read about the gender bias in the evaluation of  ERC grant proposals.

 

Categories: Internal Newsletter