Operation on HARPS' open heart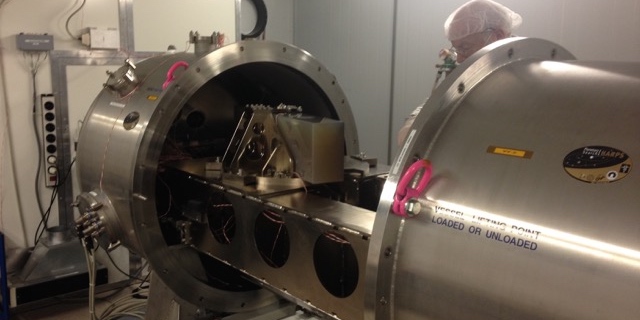 In 10 years we have learned to improve the performance of optical fibers including giving them an octagonal shape. A team at the Geneva Observatory built of researchers, opticians, and technicians led by Francesco Pepe, the leader of PlanetS project 3, has decided to replace the conventional fibers that transport the light into the HARPS spectrometer with newer octagonal fibers. It was indeed a true open-heart operation, as the vacuum tank where the HARPS fiber optics arrive was opened for the first time after remaining closed ever since its commissioning 13 years ago. The team also took the opportunity to refurbish the focuser in order to remove a little blur on the images that had been added over time by a slight drift.
The fiber size is comparable to that of a hair and has made for a very delicate operation. It was necessary to align the lens and fibers to the micrometer, placing the fibers all the way to the 3.6m telescope and plug them into HARPS without breaking them. They had to align the spectrometer without touching or soiling the optical components and finally close the tank that weighs several tons without moving the alignment.
After all maintenance tasks were completed successfully, they had to wait for the pressure and temperature of the instrument to become stable which was reached after three days. Initial measurements indicate that the objective was achieved. However, there remains a lot of work for the IT engineers to ensure best exploitation of the future data. The open-heart operation unfolded perfectly, and the patient's recovery seems only a formality. (pb/tr)
Categories: Internal Newsletter, News, Project 3 – Pl: Prof. Francesco Pepe, Technology Platform