Tamburello Valentina, Ms.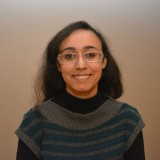 Numerical Laboratories, Associated member, Institut für Computergestützte Wissenschaften, Universität Zürich
PhD Student
Associate

8057 Zürich
+41 44 635 61 91
Please give us a personal quote or a quote of a famous person (e.g. of Albert Einstein) that describes you and your life/work.
"The joy of discovery is certainly the liveliest that the mind of man can ever feel" (Claude Bernard)
Please describe your job in only one sentence and tell us what the most important goal of this work is.
I study (gravitational) instabilities from small to large scales: in proto-planetary disks and in galaxies.
How did you get into this research/work field?
I got a phd position with prof. Lucio Mayer. It was my dream since I was a child and for the first time I saw a planetarium
What would be the greatest discovery you would like to see in your life time?
a planet inhabited by someone like us, it would be like find a piece of us in another part of the Universe.
You work for the NCCR PlanetS. What do you think will the NCCR enable you to do you couldn't do without it?
For sure I can do research thanks to NCCR