List of available infrastructure and facilities
The NCCR PlanetS is a large research programme involving three Universities (the two leading houses UBE and UGE, and UTH), two federal institutes of technology (ETHZ and EPFL) and collaborating with different partners (e.g. SwissSpaceCenter, VerkehshausLuzern, BurberbemaindeZermatt). The portfolio of the available infrastructures are large and here below resumed for some institution.
To receive further information about the available facilities: either contact one of our specialists or contact one of the TP. We will be happy to reply to your questions.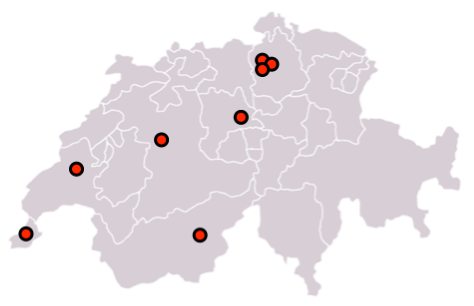 Infrastructures of UGE – Université de Genève
Contacts: Francesco Pepe or François Wildi.
A clean room areas for the integration, test and calibration of space hardware (photo): 216 m2 of cleanliness ISO7 (the largest clean room in the French-speaking part of Switzerland).  The clean room is equipped with: a softwall cleanroom ISO5 of 2.6 m2 (photo), 3D measuring equipments (for exemple, Faro Arm with radius 0.5 m and precision 50 µm) and other. Contact: Ian Huges.
Optical alignment equipment for experimental tests (contact: Bruno Chazelas):

Manual and Automatic collimator;
FISBA interferometer for diameter up to 150 mm;
Visible spectrograph (1 nm resolution);
Infrared Spectrograph (OSA) (600-1700 nm), resolution ~ 50'000;
Visible and Infrared cameras, and detectors;
Visible and IR laser sources;
Ultra bright white light sources (Supercontinuum, LDLS);
3 vibration insulated optical tables.

In addition, the group supports:
Infrastructures of UBE – Universität Bern
Contact: Nicolas Thomas.
Four clean room areas for the integration, test and calibration of space hardware. These rooms house amongst others:

Two large thermal vacuum chambers (>2 m x 1 m);
A vibration table;
A wide-beam solar simulator;
Optical alignment equipment for telescope and laser altimeter experiments;
An ion beam facility for testing mass spectrometers;
A neutral gas flow facility for testing neutral mass spectrometers;
3D measuring equipment.

In addition, the group supports:

A construction office with the latest CATIA CAD/CAM system;
An electronics workshop with clean benches for flight hardware integration and test;
A mechanical workshop with state-of-the-art CNC milling machines;
One large and two intermediate-sized computing clusters for modelling.

A series of laboratories are also supported for prototype development (e.g. for laser ablation mass spectrometry) and studies of laboratory analogues. The latter includes a spectro-photo-goniometer experiment, a pycnometer, infrared imaging equipment, and an optical coherence tomography machine. In addition, there is custom-made equipment for ice preparation and sample handling.
Infrastructures of ETHZ
Contacts: Adrian Glauser.