Rüfenacht Miriam, Ms.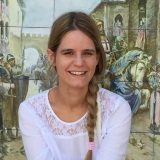 1.4_project-fr, ETH Zürich, Inst. f. Geochemie und Petrologie, Volatiles in the solar system
PhD Student
8092 Zürich
+41 44 633 89 84
Please give us a personal quote or a quote of a famous person (e.g. of Albert Einstein) that describes you and your life/work.
"Tous disaient que ça ne marchait pas. Puis en vint un qui ne savait pas et qui l'a fait." (Hilbert Meyer)
Please describe your job in only one sentence and tell us what the most important goal of this work is.
Recherche sur l'origine et l'évolution du système solaire à l'aide de la géochimie isotopique.
How did you get into this research/work field?
Au cours de mes études, j'ai surtout été intéressée par les cours sur la «science planétaire» et sur les «isotopes». J'ai donc décidé d'écrire ma thèse de maîtrise dans ce domaine de recherche. J'ai été fasciné dès le début et j'ai toujours voulu en savoir de plus en plus.

What would be the greatest discovery you would like to see in your life time?
Mission habitée vers Mars.
You work for the NCCR PlanetS. What do you think will the NCCR enable you to do you couldn't do without it?
Cela me permet de faire des recherches et rencontrer des gens qui sont intéressés par le même domaine que moi.