How an astronomer works
Looking through a telescope is a thing of the past. Visit the office of Michael Meyer, Professor at ETH Zurich and member of PlanetS, to find out what his most important tools for creative science are. Just click on the small magnifying glasses that you see on the rectangular areas on the image. Hint: To get back to the overview, click on "show full image" at the upper right corner.
Show Full Image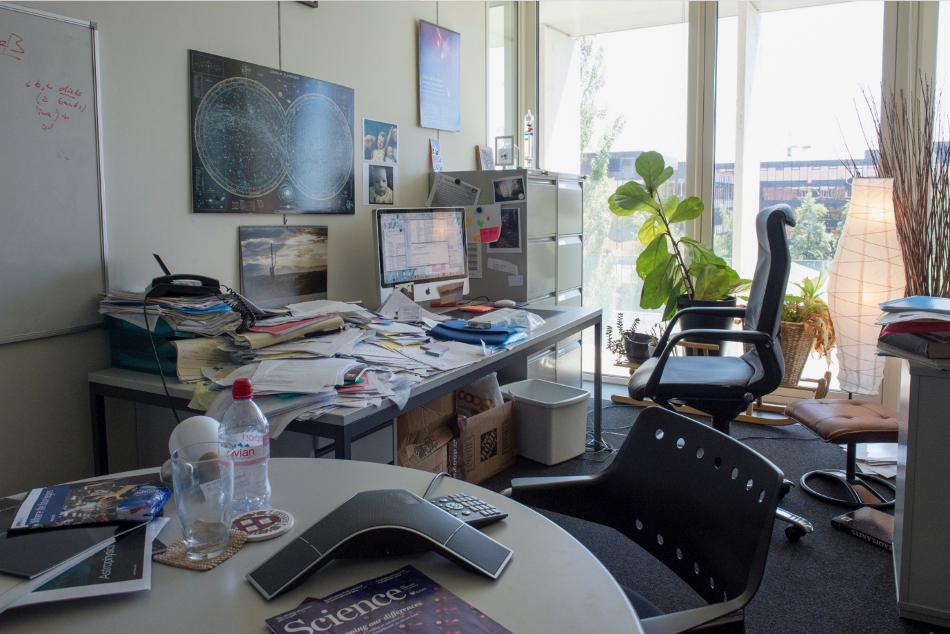 My work day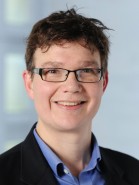 I drop off my daughter at school in the morning and I'm usually at my desk by 8:30am in the morning.Half of the time I actually go to a cafe and I sit and actually do work in my research notebook for about an hour before I come into the office if I really want to get something done. When I get in to the office, I get started sorting through e-mail and then about 9 or 9:30 I start to make a do-list of the 3 or 4 top priority items and then I try to get those done by the end of the day. I often, if not always, fail to do them all.I leave at 5pm. There's an image that you can't see on the other side of the room which is of my daughter holding up her finger in a stern manner saying "ab 17Uhr ist geschlossen." At 5pm I go get my son from daycare.
Telecon machine
I participate in approximately 3-4 telecons per week. The participants vary in location from down the hall, to across the globe.We are involved in big projects which is an increasingly large part of what we do in our science work and because of that any one institution cannot generate the resources necessary to build an instrument or create a capability that all of us would like to have so we band together into a large group where we hope the whole is greater than the sum of the parts and at minimum the resource scale is of an appropriate level that we can invest in major infrastructures. That requires coordination, organization and collaboration across institutions and across national boundaries.
Poster on wall
That is a meeting that I went to as a 3rd year PhD student, I had one more year left. And it was important in my field, about disks and outflows around young stars. My supervisor was one of the organizers and one of the invited speakers, but he did not have research funds to send me to that meeting in Heidelberg, so I had to pay my own way there from the US. At that meeting I met the director of that institute, I presented my poster, and he was interested in my work and we talked quite a bit. Later, when I was looking for postdoc jobs, I sent him my CV and a letter cold (with no jobs being advertised at all) inquiring about a job. He already knew me, and my supervisor, and he went ahead and offered me a job. That was the only job offer I received. If I had not received it I would have probably stayed on as a PhD student for an extra year.
Papers on desk
That is a pile of documents I've read or papers I printed out and read or not read, contracts, proposals, letters of recommendation in some cases. I'm pretty sure there are things that are at the very bottom of it that are from 6 years ago when I first got here.I was famous, as a young scientist, for keeping an extremely tidy desk and I made sure every night that every single piece of paper was off my desk.But somehow in the middle of my first faculty job at the University ofArizona and a couple of years after I started leading a large project for the Spitzer Space Telescope it became unsustainable to deal with every single piece of paper and so I kept a small pile in the upper left hand corner of my desk and over time it grew and grew and every 6 months I would go through it. I developed a habit of putting a big pile in that region. And now at ETH things have accelerated to such a point where I can't keep track of documents like that and it is also true of my email box. I have about 50GB of email.And I actually find this an efficient way to work, I'm embarrassed to say. It shouldn't work, but somehow between access to many of these documents and my ability to remember things and the unbelievable pace at which new information is coming, documents that are generated that need to be referenced, I can somehow just barely manage to keep things going and then you just move so fast that you rarely have a chance to reflect and file documents or which documents you don't need anymore.
Desktop computer
I would say for most scientists in astrophysics or planetary science, that's one of the most important tools, whether they do lab work, theoretical work, observational work, or computational work. I'm an observational astronomer but I don't spend much time actually observing at a telescope or reducing data these days so I primarily use my computer for email, for presentations, and document writing. Occasionally I will run and old program that I will dust off from the deep recesses of the old directory structures of my previous scientific life.I still write a lot with pen and paper in a research notebook. That's where I do my most creative work is doing sort of back of the envelope calculations in my notebooks and that is sort of my active work space. I'll have lots of discussions, I'll have a student run simulations, we'll talk about a project and for me it all boils down to the basic calculations I do in my notebook which will prove to me whether something is really worth doing or a bad idea. And then I write up a formal 3-5 page digital document with figures and other things and try to really build my case for my colleagues.
Family photos
Those are of my family. That's a reminder of the most important things and how one has to balance commitments and needs and desires of having a healthy, happy family with the commitments and requirements of the workplace. That's hard when you're deep in the middle of something at 4:30pm and all of a sudden it is 5pm and you have to go pick up one of your kids and you can't finish the task at hand and you know it will actually take you twice as long because you'll have to set it aside and come back to it another day when you'll have to get back in the space. But, it is important for me to remember that family comes first.
Categories:
External Newsletter